Château Angélus – "harmony, harmony, harmony"
Hubert de Boüard, owner of St-Émilion 1er Grand Cru Classé (A) Château Angélus briefly visited New Zealand coincidentally when the French rugby team played their first match with the All Blacks (and lost 11-52).
"To make great wine you need three things – harmony, harmony and harmony." – Hubert de Boüard
The property rose in status in 1996 when it was promoted from Grand Cru Classé to Premier Grand Cru Classé (B). Just 18 years later the property was promoted to Premier Grand Cru Classé (A). I congratulated Hubert for that impressive achievement and quizzed him on the claim of journalist Isabelle Saporta that "Hubert de Boüard is judge and jury in the preparation of the classification."
He explained that the selection process is based on a blind tasting by 15 experts and is beyond reproach. End of story.
Hubert travelled a lot between 1980 and 1985 and during that time fell in love with Burgundy, an unusual infatuation for a man whose family has owned Château Angélus since 1909.
The winery works on a gravity system for gentler wine handling and has stainless fermenters that are, unusually, flared to increase the surface-to-volume ratio to give the wines less extraction.
"To make great wine you need three things – harmony, harmony and harmony."
Hubert went on to explain that by "harmony" he meant a perfect balance between fruit extraction, oak and acidity. He likes to harvest earlier than usual to create wines with greater freshness and elegance. Hubert prefers cool nights, which arrest ripening and then start it again the following day.
He avoids lees stirring for 10 months but likes to leave his wine on the lees, which protect against oxidation and allow him to adopt a low sulphur regime. Barrels are stored at the relatively low temperature of 13-14 C during maturation.
Hubert was born in the middle of a vineyard (I assume that the family home was surrounded by vines) and was given his first set of secateurs at the tender age of seven.
"I'm not a computer man, I like to hang out in the vineyard."
The proof, as they say, is in the tasting. I started by tasting the 2011 Château Bellevue, a neighbouring property to Angélus which they have owned since 2007. It's 100% merlot because the soils at Bellevue are deep clays and therefore best for merlot. The 2011 vintage was challenging and yet the wine did not reflect it. It was delicious and a great start to the tasting. At NZD $167 this was an "entry level" claret.
The second label of Château Angélus was next, the 2012 Le Carillon d'Angélus. Hubert doesn't like the term "second label" preferring to describe it as "a wine which we make in a different way Château Angélus". He uses less oak to reduce extraction to make a more gentle, approachable and elegant wine with finesse. It was an eye-opening Right Bank Bordeaux – deliciously accessible.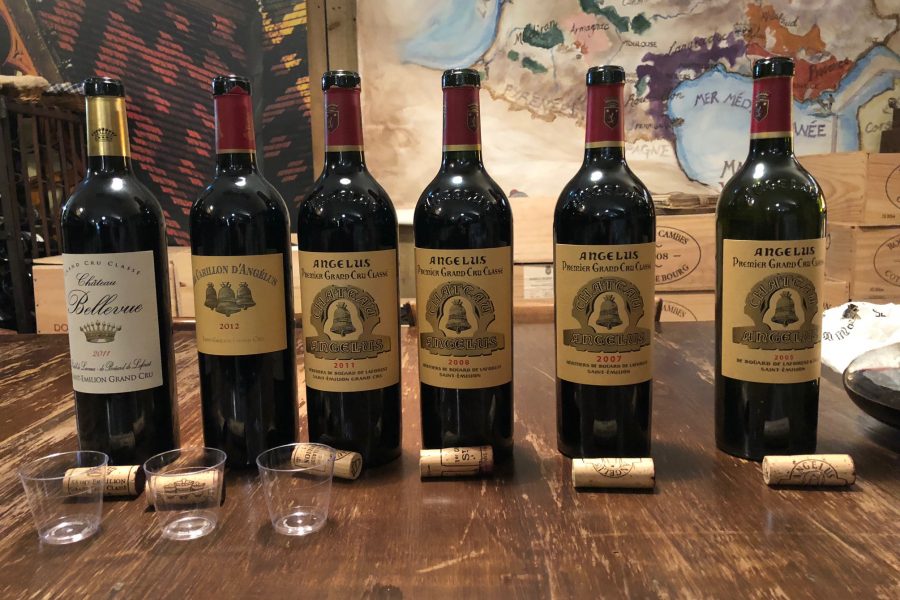 There was an air of expectancy when I sat down to taste a vertical of Château Angélus from 2011 to 2005 – they ranged in price from NZD $1049 to a fairly lofty NZD $1748. I have had the odd bottle of Angélus in the past but have never sat down to a menage á quatre. It promised to be an exciting tasting.
2005 Château Angélus – a truly inspiring wine that easily topped the tasting. Like all great wines, it is difficult to describe a wine that is sensational in taste and texture. It revealed an extraordinary range of flavours from start to an incredibly lengthy finish. I am considering buying a bottle or two.
2007 Château Angélus – this was my next favourite and was showing more bottle development than the slightly older 2005 with forest floor and Bovril characters adding to a mix of primary fruit flavours.
2011 Château Angélus – this one defied the odds, producing a hauntingly perfumed aroma and peppery texture from a challenging vintage.
2008 Château Angélus – it simply lacked the power and concentration of the others while offering some intriguing bottle age characters that boosted complexity. I'd happily enjoy a bottle at any time, with any food … if someone else picked up the tab.