Coravin inventor responds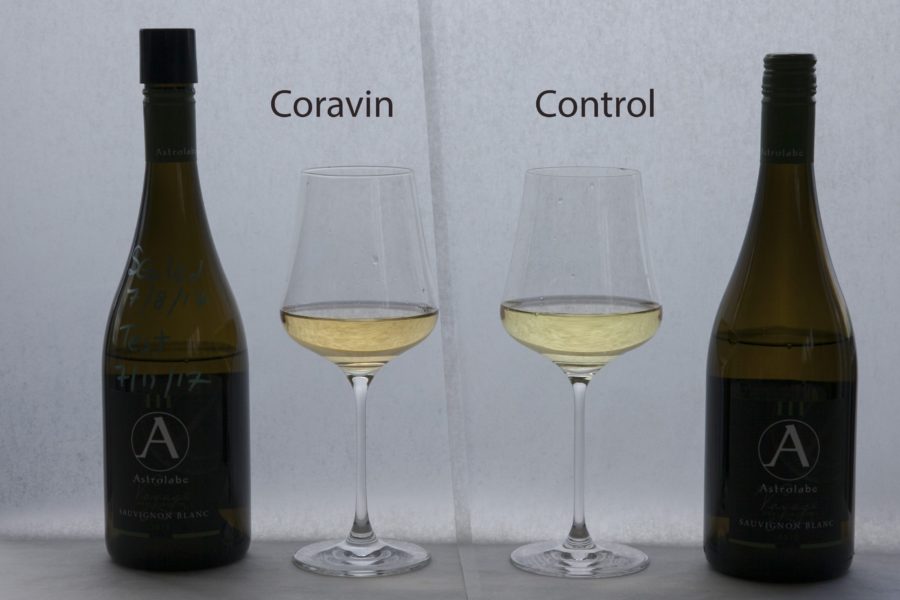 The story so far.
Coravin is a wine preservation system that has been highly praised by such luminaries as Robert Parker Jnr and Jancis Robinson MW.
I was given a machine to test. It works by driving a fine needle through the cork and pumping inert argon gas into the bottle. Increased pressure forces wine through the hollow needle into the glass. I conducted several trials. It passed them all with flying colours.
In recent months Coravin has released a cap that's designed for screwcaps. Called the Coravin Screw Cap, it has a self-sealing silicone wad and a premium cap liner. The regular Coravin machine punches through the wad and liner, which can be re-used up to 50 times. Coravin claims that the Screw Cap will keep wine fresh for up to three months.
I tested the Coravin Screw Cap using two bottles of 2010 Astrolabe Sauvignon Blanc. After three months the Coravin Screw Cap bottle was clearly oxidised. The Coravin Screw Cap appeared to have failed.
I contacted Coravin to see what their response might be, but apart from the acknowledgement of my email, I had heard nothing after about three weeks so went ahead and reported my finding in an article on The Real Review.
Shortly after the article was published I received an email from Coravin inventor, chairman and founder, Greg Lambrecht.
Lambrecht apologised for his delayed response, which was the result of a mix up on Coravin's part. He wrote,
"As you know, our Screw Cap is a relatively new system. While we did an enormous amount of testing, including innumerable blind taste tests prior to launch, there is always some failure mode that is only discovered once the product is released. So, I'm sorry for your oxidised wine."

"Loss of a wonderful wine to oxidation is what I've spent the last 19 years working to prevent."

"I would like to better understand the potential cause of failure. We've done many tests using Coravin Screw Cap with different wines, including a blind tasting series we held across Australia with Negociants in the summer, that were all successful. I just came back from Austria where 63 professionals, including Dr Josef Schuller MW, blind tasted a screwcap sauvignon blanc from Slovenia that had been Coravin'ed 3 months prior vs. control, which was also a clear success."

"However, storage conditions for these wines were quite consistent – a constant temperature somewhere between 10-14 degrees C with the bottles on their sides. I am therefore wondering if this storage is essential for the Screw Cap system to be successful at 3 months and beyond."

"As you may have guessed, I am both a wine lover and science nut. I hope we have the chance to work together on better understanding the source of this failure. I will ultimately change our instructions for the Screw Cap system once we are confident in the solution."
After lengthy discussions by email, I agreed to set-up another trial, this time using three bottles in each trial "set" – two control bottles and one under Coravin Screw Cap. The reason I chose to use two control bottles was to determine if there was any variation in the control bottles.
One set will be stored horizontally at 14C and another vertically at 14C. Two other sets will be stored horizontally and vertically in a non-temperature-controlled environment (my office) with temperature highs and lows recorded.
The experiment will be conducted over a six-week period and a three-month period. The chosen wine is Astrolabe 2013 Sauvignon Blanc, Marlborough.
At Lambrecht's suggestion, each tasting (after six weeks and three months) will be conducted using a six-glass set (to taste four wines plus two duplicates) supervised by Cameron Douglas MS. Lambrecht sent me this video clip in which he explained the procedure.
The six-week trial will conclude on Wednesday 31st January and the three-month trial on Wednesday 21st March. I have a parallel three-month trial that will also conclude on the 31st January. Lambrecht is keen on joining us on 31st January. Watch this space!