A little piece of wine history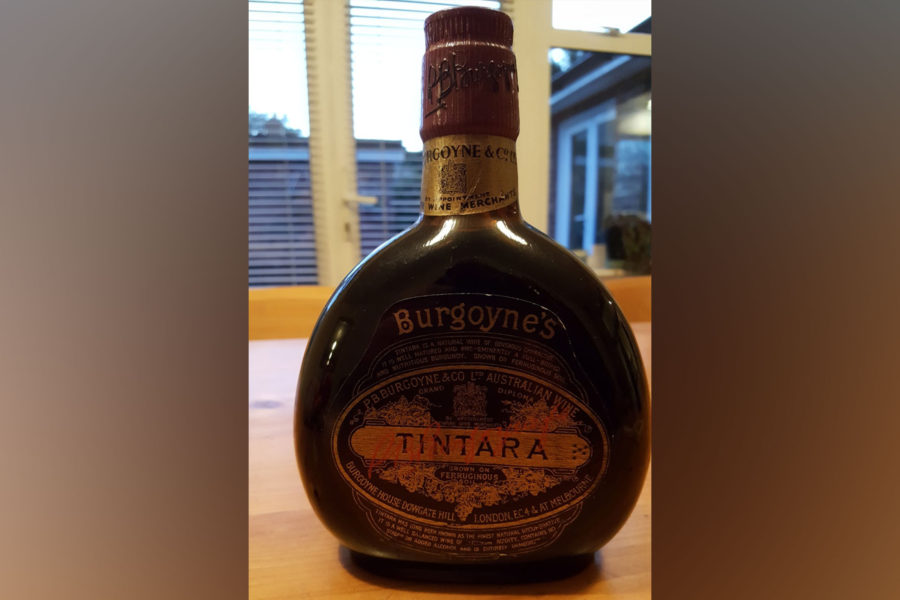 This quaint old bottle has turned up in an English household. Dating from the late 1800s, it is still full of Australian wine. The name Tintara is, of course, a venerable brand of Hardys. The bottle probably contains McLaren Vale red, likely made from shiraz, grenache and mataro. Today's natural wine proponents will be interested to see that over a century ago, merchants were emphasizing the naturalness of their wines, and even extolling the virtues of the supposed iron content of what were heroically strong Aussie reds. Such wines cheered up the miserable, chilly lives of the Poms.
The wine pictured would have been bottled in England by P.B. Burgoyne, who was the leading importer of Australian wine into Britain in his day. John Beeston's A Concise History of Australian Wine (3rd edition, 2001) wrote that Burgoyne was estimated, for the last 30 years of the 19th Century, to be importing more Australian wine and paying more British customs duty than all his competitors put together. Wine was imported in barrels and bottled in England, but shipments were often neglected and left on the wharves, where the wine often spoiled, leading to disputes.
Burgoyne had a chequered history. He upset some Aussie winemakers by telling them their wines were too thin. He may have had an ulterior motive: it has been widely documented that British wine merchants often used the strong Australian red wines from Rutherglen, McLaren Vale and Clare Valley to bolster insipid French wines from indifferent vintages.
I did a bit of rummaging through old books and found the following, in Len Evans' Complete Book of Australian Wine (1976):
"The firm of P.B. (Peter Bond) Burgoyne & Co commenced business as Australian wine merchants in 1872. Burgoyne later acquired the Mt Ophir and Mt Athos vineyards in the Rutherglen area, although these ceased production in the early 1950s."
There are also several mentions of Burgoyne in Beeston's book.
Burgoyne became part of the Emu Wine Co Pty Ltd in 1956, which later purchased WA's biggest winery Houghton, then later both were absorbed into Hardys.
The bottle was found while cleaning out the cupboards of my correspondent's 94-year-old mother-in-law, whose husband died 14 years ago, leaving a stash of old wines and spirits.
The bottle would be worth something as a historic relic. Hardys' chief winemaker Paul Lapsley tells me he hopes to buy the bottle for the company's collection. Or it may be put to auction.
SaveSave
SaveSave
SaveSave