Wine of the Week NZ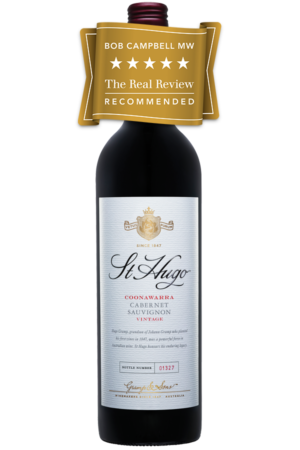 St Hugo Coonawarra Cabernet Sauvignon 2012, NZD $52.99
Ripe, silky cabernet sauvignon with cassis, blackcurrant, liquorice, leather and baked earth flavours. The wine has a firm backbone of sweet tannins and will clearly develop well with further bottle age, but it is also surprisingly accessible now. Elegance on a grand scale.
Score: 96 ★★★★★ – view Bob's original tasting
Alcohol: 14.5%
Ageing: now to 2030
Food: Wild high country red deer, beetroot and berries
Stockists: First Glass Wines, Auckland (NZ); Nillumbik Cellars – Vic; Taphouse Cellars Kingscliff – NSW (AU)
Ranked #2 of 50 2012 Cabernet Sauvignon from Coonawarra
Price Benchmark: NZD $87.66 Avg 96pt 2012 Cabernet Sauvignon tasted from Australia
Price Rating Map & Vintage Chart: How the wine fits in the winery's range?