Wine of the Week NZ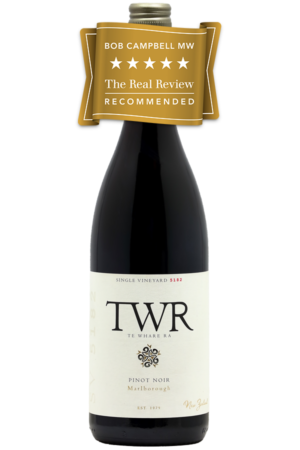 Te Whare Ra Single Vineyard 5182 Pinot Noir 2013, Marlborough, NZD $75
Aromatic pinot noir with bright cherry, raspberry, plum and spice and anise flavours. This elegant and seductively drinkable wine doesn't lack power but delivers it with great subtlety. Silken texture and a very lengthy finish.
Score: 95 ★★★★★ – view on BobCampbell.nz
Alcohol: 13.5%
Ageing: now to 2021
Food: Pork chop with grilled pineapple glaze & summer vegetables
Stockists: Te Whare Ra Wines; Advintage, Hawke's Bay (NZ); Shop for Wine – NSW (AU); Cellarhand – VIC (AU distributors)
Ranked #15 of 127 2013 Pinot Noir tasted from Marlborough
Price Benchmark: NZD $55.75 Avg 95pt 2013 Pinot Noir tasted from New Zealand
Price Rating Map & Vintage Chart: How the wine fits in the winery's range?