New wines by Ant Mackenzie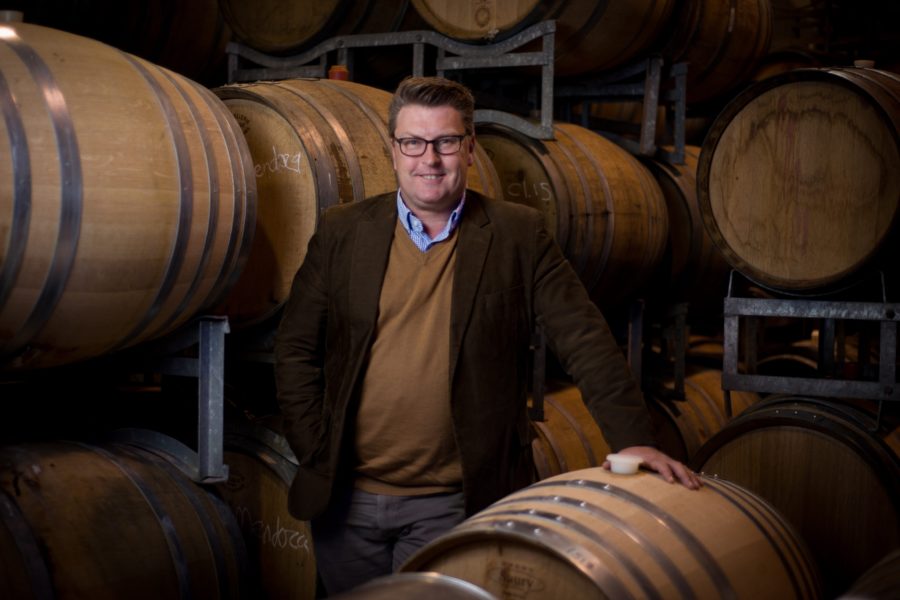 Ant Mackenzie (pictured) is a talented and experienced winemaker who has made wine for Dry River (tastings), Te Awa (tastings), Mud House (tastings), Spy Valley (tastings) and Framingham (tastings) as well as working for wineries in Australia and the US. He continues to consult to several producers while developing four of his own wine brands. They are:
Alluviale – wines made from grapes grown on alluvial soils in Hawke's Bay and Marlborough.
Craft Farm – single site wines mainly based on Ant's home vineyard in Havelock North.
Theory & Practice – regional styles based on wines made for and with clients, all Hawke's Bay at present.
TOÑO – Spanish inspired range all grown in Hawke's Bay (albariño, rosado and tempranillo)
Ant says,
"I made my first couple of wines in 2013, a tempranillo and a syrah. These wines, and wines made in 2014, were launched quietly onto the market last year. It has taken another year to streamline my brand offerings to the point where I can present something coherent!"
He sent me his first release wines from Craft Farm and Alluviale. They are definitely new and certainly noteworthy.
The Craft Farm wines are adventurous and possibly controversial. I struggled with the level of reductive character in the 2015 Craft Farm Home Vineyard Chardonnay, Hawke's Bay (NZD $34.95 – tasting), which I think is excessive but others will certainly love it. The wine has other very positive attributes including a great texture and good underlying power.
I preferred the 2014 Craft Farm Home Vineyard Gewürztraminer, Hawke's Bay (NZD $31.95 – tasting), which again has a wonderfully mouth-filling texture, strong varietal character and no shortage of power although it does suffer from a hint of alcohol bitterness. I'd love to taste it again in 2-3 years' time.
2014 Craft Farm Lyons Vineyard Syrah, Hawke's Bay (NZD $44.95 – tasting), is a dense yet elegant wine, with floral edginess and a strong tannic structure thanks, at least in part, to the use of 25% whole bunches in the fermentation. Hard to read now but promises much with a modicum of bottle age.
Alluviale offers a much more conventional and accessible range of wines. The 2015 Alluviale Sauvignon Blanc Semillon, Hawke's Bay (NZD $23.95 – tasting), is modelled after Bordeaux Blanc Sec to the point where it even includes 5% Muscat in the blend. It's one of the more characterful Hawke's Bay Sauvignon-based wines I've tasted in a while.
I also like the 2016 Alluviale Rosé, Hawke's Bay (NZD $23.95 – tasting), made from a blend of 85% merlot and malbec. It offers a little more than simple fruit and a tickle of sweetness (the wine is technically dry) – I plan to stock up on a few bottles once summer begins to loom.
The 2015 Alluviale Merlot Cabernet, Hawke's Bay (NZD $31.95 – tasting), is a bold, high energy red that offers good value at this price. I like its bright, berryish flavours and would probably drink it sooner rather than later.