Waxing vinously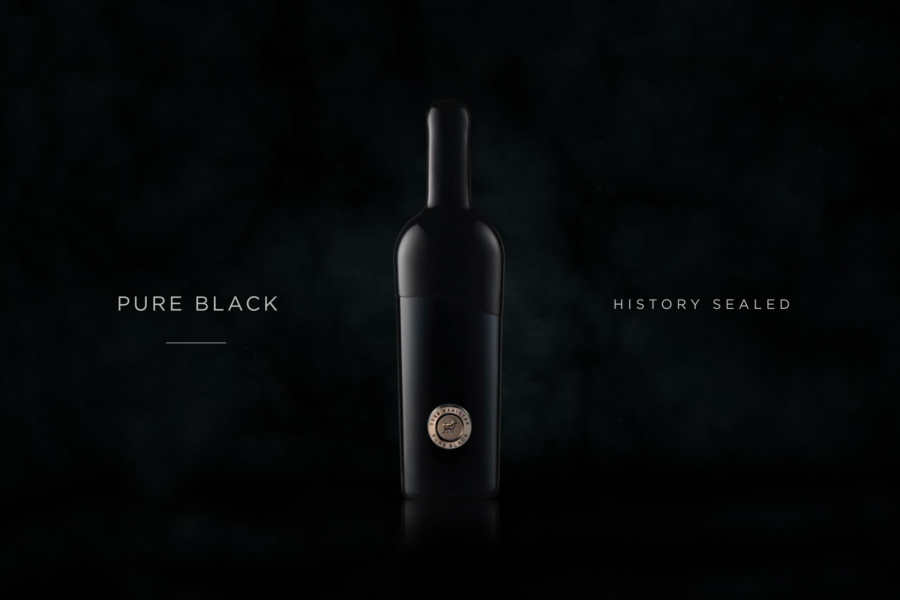 You call that a wax-dipped cork? I'll show you a wax-dipped cork!
Hugh Hamilton might have used that line, but he is much too subtle for bravado. His latest 'big boy' wine, a $180 McLaren Vale shiraz named Pure Black (pictured), not only has a wax-dipped neck, the top third of the bottle is wax dipped. (That should make it a shoo-in for the sommeliers around town)
The bottle also has a cute metal disc for a front-label. It features what looks like a merino sheep. Hugh casts himself as the black sheep of the Hamilton family, and indeed one of his vineyards is named Black Sheep. Other wines are named The Rascal (tastings), The Mongrel (tastings), The Oddball (tastings), The Ratbag (tastings), The Scoundrel (tastings), The Scallywag (tastings)… you get the picture.
There is a reason for the extravagant use of wax.
"It harks back to the first Hamilton," says Hugh. "He dipped his vine cuttings in wax to keep them during the sea voyage from Cape Town to South Australia."
The 2013 Pure Black is the cream of Hamilton's shiraz harvest: not necessarily the most concentrated fruit but it's certainly high on the concentration scale. Says Hugh's daughter Mary, CEO and sixth generation family member:
"It's also a mood thing. It has to feel like Pure Black. It's another dimension. It's for when your mood is in that mode. It's not a refreshment wine."
A special occasion wine, then? Hugh chips in:
"It could be when you're on the couch on a Saturday afternoon, watching the Swans play the Cats…"
It's definitely a winter kind of wine: hearty and warming.
McLaren Vale is the home of big reds, and Hugh Hamilton has a trio of statuesque shirazes named Black Blood I, II and III. They are contrasting styles off varying soil types. Black Blood I (tastings) is from the Cellar Block; black, cracking Bay of Biscay soil on McMurtrie Road. High clay content. Heavy soil = heavy wine. Southern Ocean breeze. Licorice, chocolate, mocha, blackberry flavours, says Mary.
Black Blood II (tastings) is off the Church vineyard: redder coloured alluvial soil; an ancient creek bed; a warmer bowl-shaped site. The wine is plush, generous and red-fruited, says Mary.
Black Blood III (tastings) is from Blewitt Springs, which is higher and cooler. The soil is Maslin sand. The wine is very different: fragrant, perfumed; lighter in the glass; plenty of tannin but fine tannin.
"I liken it to Muhammad Ali," says Hugh, "while number II is George Foreman – it packs a punch and is also good in the kitchen – and number I is probably Mike Tyson."
So, what, criminal tendencies?
These three wines are $79 and the 2014 vintage is current.
As for the 2013 Pure Black (tasting), it's the first they've made since the debut 2010. There are just 1800 bottles and it's mainly sold ex-cellar door. The wine saw 40% new oak, all Francois and Damy French barrels. It's off two vineyards in the Seaview area. A big, opulent, fleshy, rich, almost decadent wine: a superb Big Red. An 'Aussie Joe' Bugner, perhaps?