Latest wines from Fletcher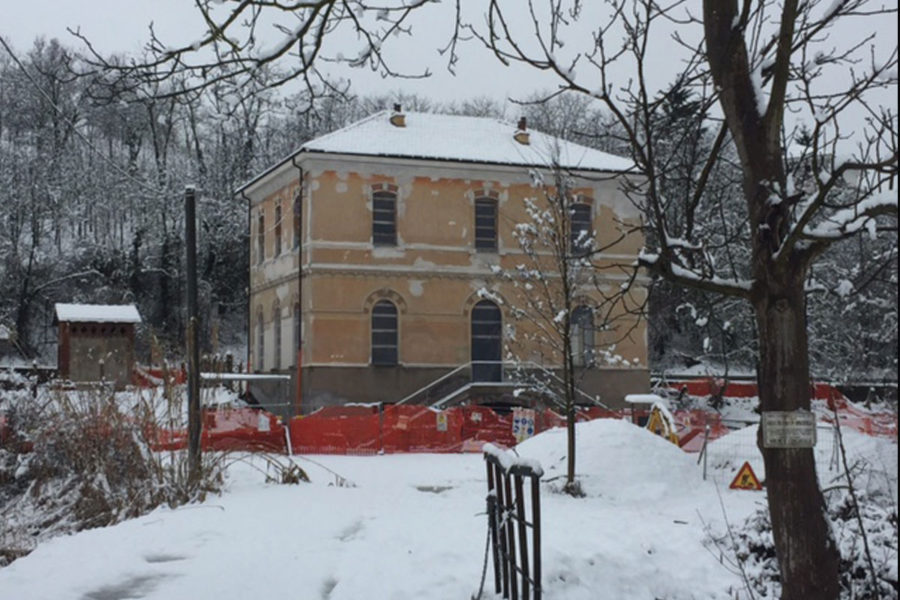 Nebbiolo-head Dave Fletcher, the young Aussie winemaker who works for Ceretto in Piedmont (tastings), dropped in to Sydney last week. Two years ago, I visited his future winery (pictured), the overgrown former Barbaresco railway station, which he and his wife Eleanor had purchased to renovate as their winery, home and cellar door.
The place was badly overgrown, with trees growing through its front steps, damaged roof and walls, but the basic structure was sound. Two years down the track, Fletcher reports that progress has been slow, but the winery and underground barrel cellar are nearly ready to use, and they are working towards an official opening in July. It promises to be special.
By then, some landscaping will have been done and there will be a tasting and sales area ready to receive visitors. He'll also have a small industrial kitchen to cater for events, but the upstairs living area is still unrenovated because of lack of funds.
"Tourism in the Langhe is growing every year," he said. "Wineries are becoming better prepared for visitors and there are more wineries with cellar door sales." Fletcher and his family have moved into the town of Barbaresco, closer to their winery. Eleanor, a lawyer, works in a Milan legal practice three days a week.
As well, in his day job at Ceretto, Fletcher seems happy with the progress. Re-jigging the style direction has been largely achieved, he said, with reduced oak input and more reliable wild fermentations. The aim of better expressing the terroir of the individual crus is also in train. All the vineyards are now being organically managed and the crus are biodynamic. "Ninety percent of the emphasis is now on the vineyards," he said.
Tasting notes for the latest Fletcher wines, 2014 Minion from Victorian vineyards (tasting), and three Piedmontese reds – 2011 Barolo (tasting), 2012 Barbaresco (tasting) and 2013 Langhe Rosso (nebbiolo, cabernet and merlot – tasting), are on the app now.
The next release of reds will take place in Australia in September, together with the first Fletcher Italian white wine: a 2015 chardonnay grown in Barbaresco.
Fletcher is looking forward to being able to sell his wines direct from his new cellar door. Meanwhile, he is also exporting some to the UK, Denmark, Sweden and Germany – all achieved without promoting, but solely by word of mouth. Australia is still his main market. The distributor is Francaboutwine.com.