Getting affectionate about Oregon pinot noir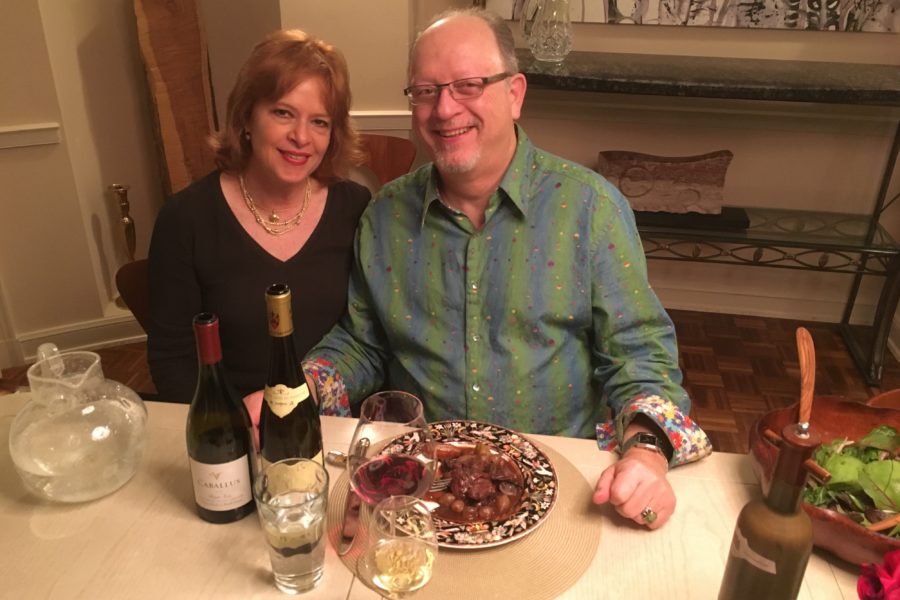 During my recent trip to Louisiana, my generous host Kevin Hill (pictured with his wife Mary Virginia) was keen to crack a few bottles of great Burgundy. He has a wonderful cellar under his home in Shreveport, bulging with great Burgundy, which he loves to share. I was there to host a 'wine and geology' dinner for his group of wine-loving oil-industry geologists (article). It was their eighth annual dinner, the previous one having been hosted by one Clive Coates MW, who reportedly relieved Kevin's cellar of quite a lot of Burgundy. And Champagne.
But, as much as I love red and white Burgundy, I don't go to far-away places to ignore the wine of the country I'm in. I asked for some American pinot. So we raided the US section of the cellar and hauled up two bottles of Hanzell Sonoma Valley Pinot Noir, 2003 (tasting) and '04 (tasting). They were good but nothing special, while Mary Virginia Hill's coq au vin demanded something special.
So we went back down and emerged with an Oregon wine, 2000 Domaine Drouhin Laurène Pinot Noir (tasting). This is from the Oregon winery of the Drouhin family of Burgundy, which produces some of America's best pinot. The wine was sensational. So good that we reheated the rest of the coq au vin two nights later (and it was even better) and drank another of Ms. Drouhin's wines with it – 2013 Caballus Willamette Valley Pinot Noir (tasting). This was made by Veronique Drouhin and Isabelle Dutartre, who each made a batch separately in their own winery, and blended the result. They called it Caballus because they both love horse-riding. There were just 225 cases of it. Another outstanding Oregon pinot.
The experience cemented my affection for Oregon pinot noir. And happily, a couple of weeks later in Sydney, I was lucky enough to attend an Oregon pinot tasting hosted by importer Steve Naughton of Pinot Now. There were some rippers, but that's a story for another day. The Hanzell and Domaine Drouhin reviews are on the app now, while the others will be posted in mid-April.