The Engine Room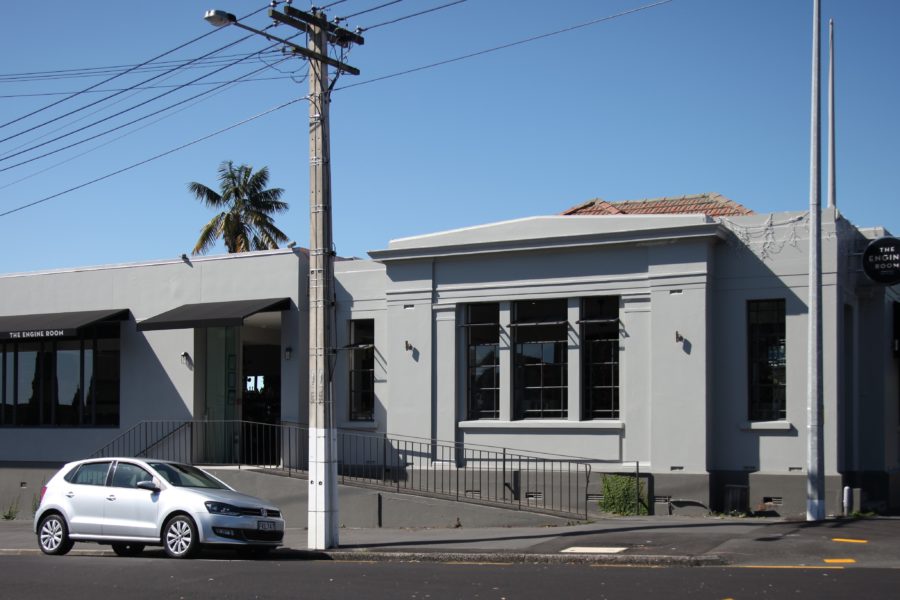 If I'm asked to recommend the best restaurant on Auckland's North Shore, The Engine Room has been my stock response for some years.
I went there on the week it opened (often a big mistake) in 2006 and though impressed with the food and service found it a little noisy thanks to lots of hard surfaces and a roomful of excited diners. I was eventually lured back by many glowing reviews and have been a big fan ever since.
The restaurant occupies an Art Deco building that once housed an engine though I'm not sure what the engine did – perhaps it generated electricity. It's opposite the popular Bridgeway Cinema, which can make parking difficult although the restaurant does provide a small number of private car parks.
We visited on two occasions recently to experience different sections of this L-shaped restaurant. I recommend the Bartley Street side, which is quieter and has better ventilation (we visited on a sultry summer evening and welcomed a gentle breeze through open windows).
The wine list is thoughtfully selected but not lavish. By the glass ranges from $13 for Sauvignon to $25 for champagne while bottles go from $60 (Guigal Cote du Rhone) to $240 for Providence. We (three of us) enjoyed Sebastien Dampt 2013 Chablis ($85) and the always satisfying Guigal Cote du Rhone.
Service is an outstanding feature of this restaurant although a combination of background noise and a strong French accent made our waitress difficult to understand. She was otherwise perfect.
The Engine Room has a fairly rustic menu. We got off to a flying start with Cloudy Bay clams in a seafood sauce that was to die for – very flavoursome and with just the right amount of spice. If they'd also provided bread they wouldn't have had to wash my plate. Marion's entrée of Clevedon Buffalo Mozzarella, prosciutto and roasted peach with a basil pesto dressing was just as good. A great combination of contrasting tastes and textures.
Steak Frites 'Hereford Scotch', maitre D'hotel butter is one of the restaurant's signature dishes. A juicy cut of meat, perfectly cooked and partnered with French fries – a classic dish which they've clearly mastered. As good as any I've tried anywhere.
Our third guest was less impressed with his Ora King Salmon, quinoa tabbouleh, beets and pomegranate. He thought the dish had too many flavours. The tastes were fine but "lacked zing".
We shared a warm plum and almond tart mascarpone and a rose pannacotta with apricots and pistachio brittle. They provoked spirited discussion particularly about the texture of the pannacotta, which was wobblier than when we'd enjoyed the dish a couple of weeks earlier. Our guest boldly pronounced that Pannacotta should have the texture of a mature woman's breast and that the dish we were presented with didn't measure up. We all agreed that it tasted great. There was also general agreement that the spices in the tart overpowered the frangipane.
The Engine Room is a moderately expensive restaurant but it delivers value when compared to others in a similar price range.
I've used a rating scale developed by professional restaurant reviewer, Guy Griffin, and have tried to benchmark my scores against the best restaurants in New Zealand and Australia. In June Huon, Guy and I plan to dine together in Sydney to calibrate our ratings.
When I added my scores 19/30 didn't seem generous enough for a restaurant I hold in very high regard. On the other hand, Guy awarded Tetsuya's 24.5 and Rockpool Bar & Grill 23.5. They are both great restaurants that, in relative terms, justify my score for The Engine Room.

Rating: 19/30
How good was the food? 7.5/10
How good was the wine list? 2.5/5
What was the service like? 4/5
How was the atmosphere? 2.5/5
Does this place have the X-Factor? 2.5/5
The Engine Room
Address: 115 Queen Street, Northcote Point, Auckland
Phone: (09) 480 9502
Web: Engineroom.net.nz
Open: Tuesday — Saturday dinner from 6 pm, Friday lunch from Midday
Price: Entrees $22-25, Mains $36-38 (sides $7-8), Desserts all $16
Wine list: Small but perfectly formed.