Shreveport Geological Society Australian-themed Dinner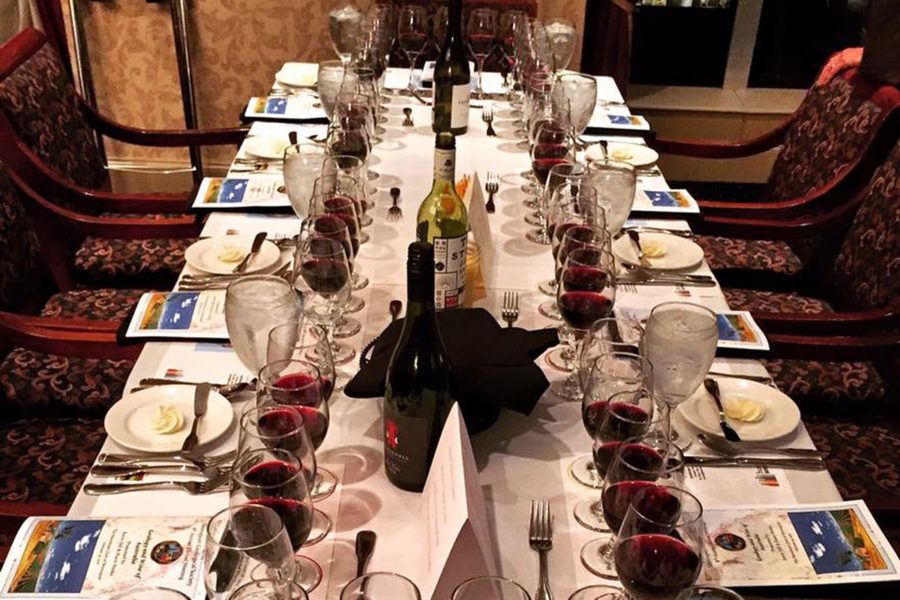 "Know anyone in Australia who's in the market for a second-hand volcano?" inquired the casino manager as he showed me around. We were in Jimmy Buffett's casino Margaritaville, in Bossier City, Louisiana. Yes, that Jimmy Buffett, a local hero who is still very much alive and hasn't entirely wasted away while drowning his sorrows in margaritas.
As we walked in, we were confronted by the biggest guitar I've ever seen. Bossier City is just a few miles from the Texas border, and as you know, they do everything bigger in Texas.
My host described how the enormous artificial volcano, which dominates one of the casino's restaurants, would belch flames and sparks and a gal wearing very little would be ejected from the crater and come sliding down the lava flow and plop into a tank of water.
Said volcano has outlived its lifespan. Even kitsch has a use-by date in Louisiana.
Margaritaville is on the Bossier City side of the Red River; the other side of the river is Shreveport. The two cities and their suburbs have a combined population of about 800,000. The Red River, like the Mississippi, has a colourful history of riverboat casinos. These days the biggest casinos are still on the river, but not floating. Their skyscrapers, with accommodation, restaurants and so on, are on dry land but their gambling halls are built over the water. That's because the law stipulates gambling can only take place on the water. A bizarre throwback to the riverboat gambling heyday.
Shreveport is an oil-mining town. I was there to host an Australian themed wine dinner for a group of wine-loving geologists. In previous years, they've had Clive Coates on Burgundy, Veronique Drouhin on Oregon, and this, the eighth such dinner, featured Australia – specifically, McLaren Vale. It was great fun. The guru of local wine-loving geologists, a geophysicist named Kevin Hill, talked about the geology of Australia and I talked about the wines. The chef at the Shreveport Petroleum Club outdid himself for creativity, as the accompanying menu shows.
The most popular wine of the night was the Mollydooker Blue Eyed Boy Shiraz 2014, which appealed for its great richness, softness, fleshiness, sweet fruit and coconutty oak. It was closely pressed by the S.C. Pannell The Vale Shiraz Grenache 2012, a tighter, firmer wine with a great future.
Why McLaren Vale wines? Two reasons. McLaren Vale has remarkable geology which has been researched more thoroughly than any Australian wine region. And Americans love the wines because they're big, rich and brassy – dare I say volcanic.
The Wines
Coriole Fiano, McLaren Vale, Australia, 2015 (tasting)
D'Arenberg The Stump Jump Grenache Shiraz Mourvedre, McLaren Vale, Australia, 2012 (tasting)
or
D'Arenberg The Hermit Crab Viognier Marsanne, McLaren Vale, Australia, 2013 (tasting)
Yangarra Vineyards Old Vine Grenache, McLaren Vale, Australia, 2013 (tasting)
MollyDooker Blue Eyed Boy Shiraz, McLaren Vale, Australia, 2014 (tasting)
S.C. Pannell The Vale Shiraz Grenache, McLaren Vale, Australia, 2012 (tasting)
D'Arenberg The Stump Jump Sticky Chardonnay, McLaren Vale, Australia, 2010 (tasting)
The menu
First
Shrimp on the Barbie
Fresh prawns marinated in chili ginger, barbeque sauce
'Roo Sliders
Ground kangaroo, beets, and caramelized onions; rocket garnish
Aussie Breadsticks and Damper
Then
Balmain Bugs in a Pouch
Slipper lobster meat poached in lobster stock, wild mushrooms, and leeks, served in a kangaroo "pouch"
Followed By
Braised Lamb Leg
Slow-braised Australian lamb leg sliced over whipped Kumara with roasted winter vegetables
And
Mango Salad with Murray Bridge Cheddar and Roaring Forties Blue
Butter lettuce, diced mango, Lebanese cucumbers, Aussie cheese, and white balsamic vinaigrette
Finally
Strawberry Pavlovas and Macabella Brownies
Executive Chef: Eddie Mars