St Claudes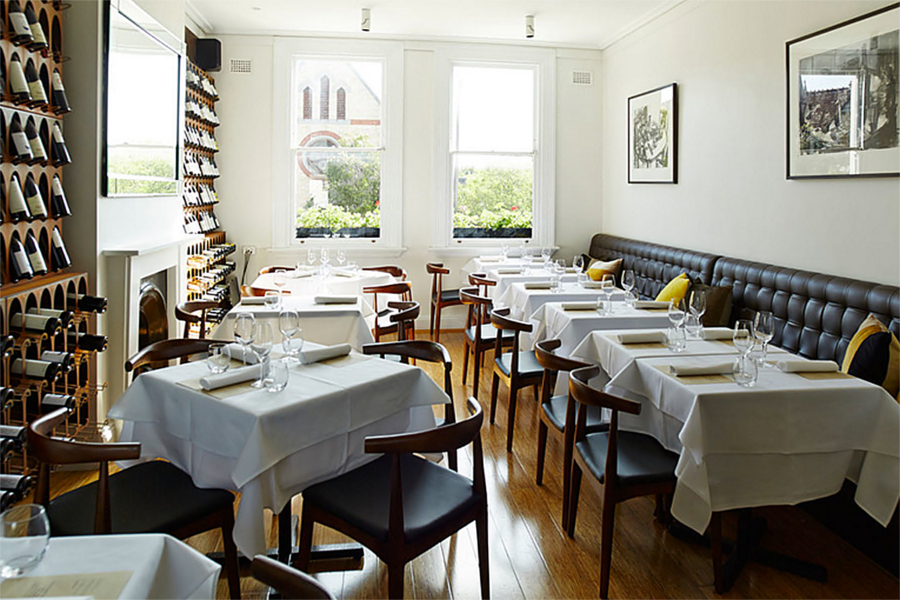 The two bottles on the bar – a Lafite Rothschild '88 and a JL Chave Hermitage '06 – say it all. They say BYO nights are back. And so, naturally, are the local wine mavens.
At the new Saint Claude's it's as if the old Claude's restaurant never really went away. It just took a well-earned sabbatical. After that, it was business as usual, with a suave olive green colour scheme for the downstairs dining room, a wine wall installed upstairs, some fresh linen all round and a name change to officially canonise the late Claude Corne, who founded this cosy Paddo gem in 1976.
There's a nostalgic nod, on and off Saint Claude's smallish menu, to the well-remembered Frenchman and also to his successors with names like Pignolet, Pak Poy and Lee Luik. To this narrow terrace on Oxford Street came a posse of earnest, driven young chefs over the years, who toiled in the tiny kitchen and harvested thousands of words in Sydney's food media.
Now the current owners Stuart and Jess Parsons are lightening everything up a notch. Sure, there's still double damask on the tables but on the plate chef Cameron Johnston (ex-Bathers Pavilion; ex-Claude's) takes the stiffness out of fine dining, with dishes that step lightly and lead you gently into his world.
It's a world where although a confit rabbit terrine is studded with foie gras (sorry, sorry, sorry. yes I know) ($20) the richness is cut by mouth-puckeringly tart cornichons and ale jelly; where there's unexpected delicacy in tasty duck rillettes sandwiched between shards of sesame tuiles ($20); and where the storied twice-baked cheese soufflé ($20) is referred to as a 'special' but appears to be on permanent standby for anyone in a sentimental mood.
There's quite a few of those in the room tonight, discussing their recent jaunt in the Dordogne and sipping first-growth Bordeaux. However, the vibe isn't the reverential, muted one of yesteryear, but much more celebratory. Everyone's happy about Claude's new incarnation. One in particular (me) loves the Bill Evans soundtrack.
My dining buddy, on the other hand, loves his creamy, molten gruyere soufflé. Just looking at it makes you consider putting your cardiologist on speed-dial. Like its predecessor, the Pignolet soufflé a la Suissesse, it delivers a detonation of cheesy umami and the fabulous stink of melted gruyere. Tonight, however, it's a pinch of nutmeg too far for me.
Rangers Valley rump cap – the premium end of a cow as far as I'm concerned – consorts with grilled asparagus, miso and potato, cured egg yolk and watercress ($35). This dish is a lot about showing off a few interesting details but it's mainly about just plain delicious beef. A fillet of sweet, firm barramundi with chorizo nuggets wrapped in zucchini and served with a crumble of squid ink toast ($35) is deceptively simple, executed perfectly.
With our mains we are drinking a couple of compelling wines that hail from opposite ends of the earth but really aren't so far apart in spirit: a supple-textured, thirst quenching '14 Rimauresq rolle from the Cotes de Provence ($63) and that great friend to beef, the '14 The Struie, ($88), an old-vine shiraz from Torbreck. Both wines speak for Saint Claude's wine list: priced without greed and eclectic in a good way; with an interesting but unpretentious reserve selection built in. The list tells you the owners are wine heads.
A cover version of an old Claude's favourite, the 'chocolate indulgence' with yoghurt sorbet, Earl Grey and hazelnuts is winning applause at the table next to us; but I'm digging the hum of ginger in my rhubarb and ginger soufflé with lime cream, which collapses with a perfumed sigh at the mere approach of a spoon.
So I'll probably get in trouble for saying this, but welcome back Claude's, patron saint of the soufflé. I propose a feast day in your honour. BYO okay?
St Claude's
Address: 10 Oxford Street, Woollahra, NSW
Phone: (02) 9331 3222
Web: stclaudes.com.au
Open: Open for dinner Tuesday-Saturday; lunch Friday & Saturday.
Price: Entrée $20; Mains $35; Cheese $14-$24; Dessert $15
Rating: 22.0 /30
How good was the food? 7/10
How good was the wine list? 4/5
What was the service like?  4/5
Did the atmosphere work? 3.5/5
Is there an X Factor about this place? 3.5 /5