Terroir al Limit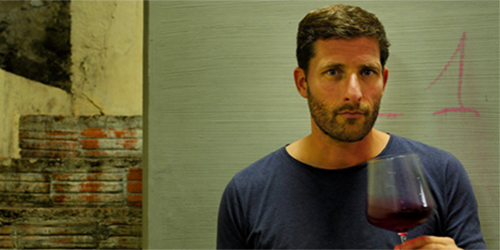 Dominik Huber (pictured) is that rare breed of winemaker: someone capable of putting a whole new interpretation on the wines of his region. Huber is the co-founder of the winery Terroir al Limit (tastings) in Catalonia's Priorat region.
The grape varieties there are principally carignan and garnatxa (grenache) for red wines; garnatxa blanca (white grenache), macabeo, pedro ximenez and muscat of Alexandria for whites.
It's an extraordinary story. No sooner had the modern-day pioneers of Priorat rediscovered and revived the region, an hour's drive south of Barcelona, but along came Huber – a German – and his co-founder Eben Sadie of South Africa, to turn the style of Priorat wine on its ear.
It's not just that Terroir al Limit is biodynamic. Priorat is a hot, dry region and farming organically or biodynamically is easier than in most wine regions. (Although the hidebound grape growers are slow to change and it's hard work persuading them.)
"The most important thing is not to kill your soil," says Huber.
Nor is he the only winemaker in the world using 100% whole bunches (including stems) in his red fermentations, although this is rare in Priorat. It's more that Huber didn't want to follow the crowd and make the very full-bodied, super-ripe, high-alcohol wines that many people make in Priorat. He wanted elegance. And drinkability. And food compatibility. Earlier-harvested grapes; moderate alcohols; gentle tannins; refinement. His reds are generally 13.5% alcohol and whites, 13.
The secrets include high-altitude vineyards, and pressing red wines off skins half-way through the ferment, limiting the extraction.
I met Huber last year in Priorat and again a few weeks ago during his visit to Australia. In Priorat, I was a little surprised at the sulfides in some of his reds. He told me the wines needed to be in a chemically reduced state when bottled in order to age well. This time around, he told me the garnatxa was seldom reductive, but carignan usually was. This tallied with my perceptions. It's the nature of the carignan grape, he said.
There are two ways a winemaker can get rid of sulfides: by fining with copper sulphate, something Huber is philosophically against, or to oxygenate the wine, which he says risks 'fatiguing' it. He elects to do neither. I find some of his carignans lose their sulfides with breathing; others don't seem to, and they can be challenging.
What is not at issue is the deliciousness and elegance of these wines (tastings). Beauty and finesse are not words I often use about Priorat reds, but I make an exception for these wines. They are different. The only real disappointment is their price. They are very expensive. As Huber and other iconic Spanish producers have proven, the brand doesn't have to have a long pedigree to support a high price. It has to be of outstanding quality and character, of limited availability (natch) and it has to be promoted well. The winemaker must get his wine under the noses of influential people all over the world, to help spread the word. (Guilty as charged, your honour.)
The 2012 vintage wines, current in Australia, range from $83 to $470 retail.
Terroir al Limit is unusual in that 30% of its output is white wine. The average for the region is just 5%. "Whites are very good in Priorat – and very good with food, and," he adds provocatively, "their aging potential is even greater than the reds." I hope I live long enough to test that one.
But, he warns, both reds and whites must have low alcohol.
"Wine must be refreshing. Even full-bodied reds should finish cleanly, and leave you wanting another sip. A healthy man should be able to drink a whole bottle a day."
Amen.
The best wine I tasted was the 2012 Les Manyes (tasting), a single-vineyard, high-altitude (800 metres) pure garnatxa. Sheer beauty. Breathtaking elegance.
You can read my impressions of these superb wines on huonhooke.com now.