Serious Sherry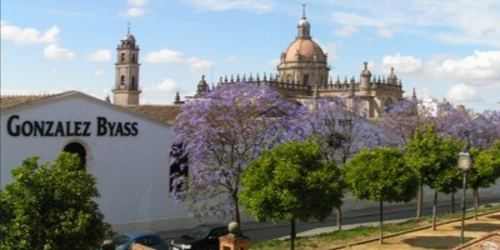 A tasting of Gonzalez Byass sherries with Bangkok-based export manager Xavier Vicente reminded me that the best examples offer brilliant value. It's an easily neglected wine style that deserves more of my attention.
About twice a year (usually in summer) I buy a bottle of Fino, put it in the fridge, and enjoy a small glass each night for as long as it lasts – usually about a week. Good Fino is a real pleasure – refreshing, packed with flavour and offers a great match with a wide range of dishes.
Tio Pepe (tasting) is Gonzales Byass' best-known sherry. I like the wine's richness and intense nutty and salty flavours, but would have preferred it to be a little fresher. My favourite Fino (not reviewed) is not a Fino sherry at all but a Manzanilla sherry from Bodegas Hidalgo called "La Gitane" (the gypsy). Manzanilla is made in a more coastal location that Fino. It is made in much the same way but its cooler location results in a stronger flor yeast growth to give the wine a more pronounced nutty character. You can buy a 500ml bottle of Hidalgo La Gitane at most fine wine stockists for around $33.
The Gonzales Byass wines that impressed me the most were the older and seriously complex sherries. Del Duque Amontillado VORS (tasting) is produced from a solera of wines that spends an average of 30 years in an American oak barrel after starting life as a flor sherry. VORS stands for 'Very Old Rare Sherry'. The wine has to be 30 years or older to qualify for this title.
Gonzales Byass Matusalem VORS (tasting) is a blend of the widely planted sherry grape Palomino (75%) and Pedro Ximenez (25%) (PX). The PX achieves high levels of concentration and sweetness by being sun-dried, concentrating each berry to a raisin-like state. After an average of 15 years the wines are blended and allowed to spend another 15 years in the solera system. It's a lot of work, but when you taste the wine you will see that it is all worth it.
Finally, we tasted Gonzales Byass 1982 Palo Cortado (tasting), a very special treat indeed. This, Xavier explained, is the best of the best. Such a selection was made in 1975, 1982 and 1987 (not always Palo Cortado, but a sherry of high enough quality to act as a flagship). A Palo Cortado is is initially aged under flor to become a fino or amontillado but inexplicably loses its veil of flor and begins to age oxidatively as an oloroso. The resulting wine has the richness of an oloroso and some of the crispness of amontillado. Only about 1-2% of sherry production becomes a Palo Cortado.