Beware clear bubbly bottles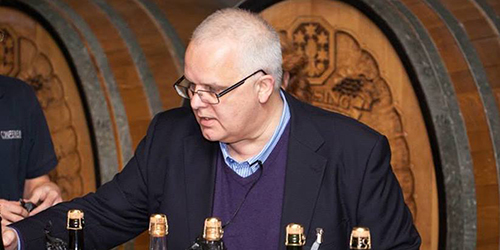 Tom Stevenson (pictured), chairman of the Champagne Sparkling Wine World Championship (CSWWC), is calling for all producers to restrict the use of clear-glass bottles after experiencing a high percentage of "light-struck" characters in clear-glass entries in the CSWWC.
According to studies (see below) just 60 minutes under artificial lighting or daylight in any clear-glass bottle can result in the production of an unpleasant compound, dimethyl disulfide (DMDS), which smells of "old drains and sewage". Sparkling wine is particularly susceptible.
From 2015, the CSWWC has 'double-bagged' clear-bottle entries in heavy duty plastic as soon as it is delivered. That has resulted in a reduction of light-struck faults by 94%.
The same fault can also affect beer in clear bottles. I recall tasting a bottle of beer in a clear bottle that had been exposed to sunlight for one hour – it had an off-odour that reminded me of raw sausage meat, especially when compared to a control beer that had not been exposed to light.
To be on the safe side avoid clear bottles wherever possible.
Extract from "Sensory Defects in Wine" by George Vierra
"Lightstruck": Smells like cheese or plastic. Problem in sparkling wine. Magnifies effect of CO2 on aroma perception. Lightstruck is formed from amino acids plus light to create DMDS, DMS, H2S, methanethiol and ethyl methyl sulfide. Simply put light characters, often described as wet dog or wool, are caused by the reaction of UV light with amino acids (specifically methionine). The byproducts are: hydrogen sulfide, methanethiol, dimethyl disulfide and sulfide, and ethyl methyl sulfide. Most typically, this problem occurs in finished or bottled wines (note: other food products can have light struck characters). Wines bottled in flint or clear glass offer the least protection from UV light. Green and brown containers offer the most protection. The "rule of thumb" is the darker the glass the better the UV protection. It also should be noted that the reaction time could be a very short. Experience with flint glass and sparkling wine is that the light characters can evolve in as little of 60 minutes when exposed to a fluorescent light source that is 36 inches from the bottle. This is an enormous problem in sparkling wines because the carbon dioxide amplifies the aromas. Once formed these light characters cannot be remedied by copper additions. Aeration is only method of reduction (not removal), and this can de even detrimental to the wine. The easiest form of prevention is to produce wines that are low or void of sulfur containing compounds.