'The 24-Hour Wine Expert' by Jancis Robinson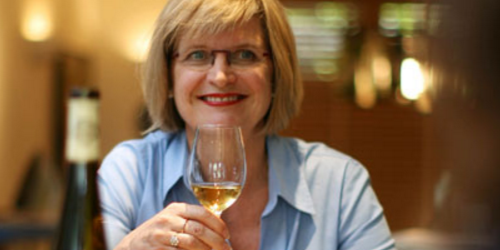 Jancis Robinson (pictured) is noted for her serious wine books, erudite books with great depth of information, such as The Oxford Companion to Wine, The World Atlas of Wine and Wine Grapes. Now she's produced what I suspect is her smallest book so far, The 24-Hour Wine Expert.
This is a pocket-sized paperback of just 112 pages, simply and cheaply designed and produced by Penguin, and is likely to win Robinson a bigger audience than anything she's done before. That's because many people want to know a bit about wine but aren't sufficiently motivated to wade through a large, dense tome.
This handy little book helps you understand wine labels, match wine and food, decide when is the right time to open a special bottle, and gives tips on how to choose wine from a retail shop (trust the small independents and form a relationship with them) or a restaurant wine list (trust the sommelier). There are tips on glassware, on cellaring, opening and conserving wine, what temperature is right for which wine. There are the obligatory chapters on wine regions and grape varieties. There's also a 'How to Taste' chapter and a glossary of wine words. It's brief and general and yes, it could be criticised as superficial, but it is very useful. I recommend it.
Price: £4.99 in the UK, so will probably be $11-$13 in Australia.