Wake up and judge the coffee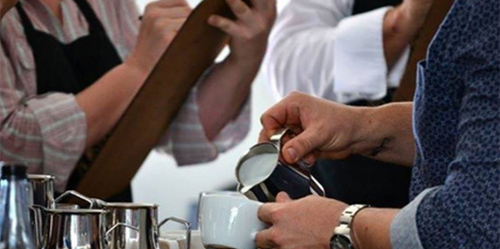 I spent a few hours at the Sydney Royal Summer Fine Food Show coffee judging last week and was impressed at how highly organised it is, and how different from wine judging.
Firstly, it all depends on machines – four of them, each with a highly experienced barista behind it, one woman and three men. A fifth station was serving coffee in plungers. There are three ways each coffee is judged: as an espresso, as a caffé latté and as a plunger coffee. The preparation of the coffees fascinated me even more than the actual judging.
The baristas are paid for their time whereas judges are not. They have to ensure the coffee samples that reach the judges are as close to identical as possible. There are four or five judges on each panel.
One barista, Mario Valios, explained that although the crema (the layer of froth on the surface of an espresso) is a sign of quality, it needs to be spooned to one side because it tastes bitter. Alternatively, you can wait till it subsides before drinking.
The cups and glasses are of course warmed on top of the machines. And the machines are started up early in the morning so that they are fully heated by the time they're needed.
The baristas have neither the time nor the need to use thermometers or timers, or scales to weigh the grounds. They do it by feel: the temperature of the milk, the length of time the coffee is expressed (the rule is 25-30 seconds), and the volume of milk added to the coffee.
They use standard supermarket-issue Dairy Farmers full-cream milk because it's 'very good'.
Chief judge Paul Mannassis mentioned that one barista had to modify his milk temperature, as he had been used to making lattés with hotter than normal milk.
"His customers in the CBD buy their takeaway coffee down in the street and take it up to their office, and they want it to be hot when they get to their desk and open it."
Paul is a very practical chief judge. Yes, there are parameters of quality and medal-winning coffees must tick the boxes, but at the end of the day, coffee is a drink. It has to have flavour and taste good.
He is skeptical of single-origin coffees, as they are often unbalanced – too acidic, too bitter, too earthy, or too something. The art of the coffee roaster is to blend different beans to produce a balanced coffee. Paul confessed that he uses a plunger at home because he likes to have a long, relaxing drink, which a short black doesn't give him. He says the grind must be different (coarser) for a plunger, and some blends are better suited to plungers than espresso machines. This year, for the first time in the 15 years of the competition, caffé latté was judged instead of cappuccino, in recognition of the changing styles of coffee being drunk.
Compared with wine judging, greater emphasis is placed on the palate, less on the aroma. In wine, the standard break-down of points is 15 for appearance, 35 for bouquet and 50 for the palate. For coffee at this show, it's 10-20 for appearance, 5-10 for aroma, 75-85 for palate (the 75 is for espresso, the 85 is for latté).
Also, for each of the three styles – espresso, latté and plunger – the appearance total includes assessment of the green and roasted beans as well as the drink itself.
Paul Mannassis agrees that Australia has a strong coffee culture. At this year's show, Australian grown coffees did well. There's also a trend towards more developed roasts and fewer light roasts. But, he added,
"there was nothing much over-roasted, which used to happen a lot. Also, there were a lot of bronze and silver medals, which is a good sign, as it means the average quality is improving".
There were 303 exhibits.
A few tips for coffee tragics.
For best results:
Ensure the machine is fully heated before making a coffee.
Before making the first coffee, run plenty of water through the machine to get rid of the stale water in the boiler.
Express the coffee for at least 25 seconds (25-30).
Milk for lattés, flat whites and cappuccinos should not be too hot. You should be able to hold the glass (55-60 deg C is the range).
Don't reheat milk, or add fresh milk to milk that's been heated before.
Grinder settings should be carefully monitored. If you use a bag of beans over a number of days you may notice the beans gradually get drier, which means the grinder setting may need to be progressively finer.
Beans are not at their best immediately they are roasted. Two weeks after roasting date is optimal.
Coffee show results are on the website now.
http://www.sydneyroyal.com.au/finefood.htm