If the party stops as soon as the grog is turned off, it wasn't much of a party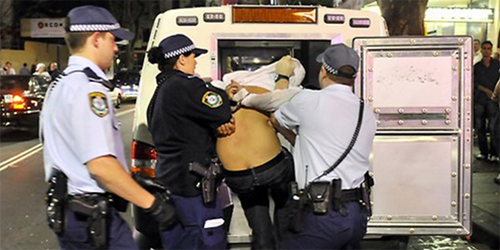 Wow, there sure is a lot of spleen being vented in Sydney over the Baird state government's alcohol lock-out laws. The laws restricting the sale of alcohol have damaged the late-night trade and foot-traffic in Kings Cross, Sydney's oldest night entertainment precinct, and other places, forcing some drinking venues to close. On the other hand, they've been successful in curbing late-night, alcohol-fuelled violence. Hospitals like St Vincents, which was being deluged with damaged and violent people, has reported a welcome relief.
Businessman Matt Barrie led the tsunami of opposition to the government on social media. He accused Premier Mike Baird of killing Sydney's nightlife. The right-wing religious would have us all tucked up safely in bed with a book by 10pm, he said. Barrie and his ilk accuse the 'fun police' of wrecking Sydney's international reputation and replacing the fun atmosphere with deserted streets and empty venues. Shops are going broke.
I'm neither right-wing nor religious, and I've been a professional alcohol drinker for over 30 years, but I find a lot to like about being able to walk down George Street or the Cross late at night without feeling like I'm in a war zone. Young people lying on the pavement, vomiting and lurching, being abusive and sometimes fighting, is not something I want to see in my city. They even fight the ambos who come to help them, for heaven's sake.
The debate is all about alcohol, and frankly, I can't see why it's necessary to buy alcohol after 3am. Alcohol has been far too freely available in this city for years. I've lived in Sydney for 34 years and during that time the availability of alcohol has exploded. It's unnecessary and it's unhealthy. If people can't have fun without alcohol, then their definition of fun is wrong. If the party stops as soon as the grog is turned off, it wasn't much of a party.
I was never a person to relish massive crowds of noisy people in streets late at night, even when I was in my 20s. I'd much prefer a small venue – a wine bar or jazz club – over the kind of place the Cross specializes in. But I recognize that other people are different to me, and there are many who love to party in the streets and hang out in the Cross late at night. They can still do that, but they might find themselves with more sober people, which isn't a bad thing.
We have become a very alcohol-focused society and our entertainment is unnecessarily alcohol-centred. I can even take a beer or glass of wine into the movies now, which is hardly necessary. When we see the beer-fuelled crowd behaviour at sporting events, it is logical that we want to limit drinking. Alcohol is being used everywhere as an excuse for bad behaviour. Well, alcohol is not an excuse for bad behavior. Grow up, Sydney.
http://www.smh.com.au/nsw/matt-barries-tirade-against-sydneys-nighttime-regulations-goes-viral-20160203-gmlab1.html