New owners for Sydney International Wine Competition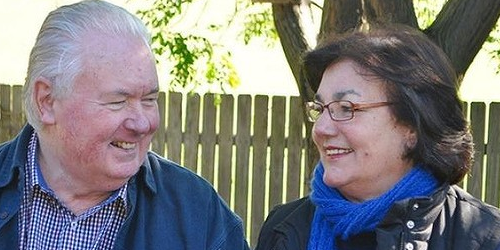 The Sydney International Wine Competition, the first wine show in the world to judge wine in the presence of food, has new owners. After 36 years, founders Warren and Jacquie Mason (pictured) have sold the business and moved aside to allow the new owners, Brett and Michaela Ling, to take over.
The Lings met while studying chemical engineering at university, and Brett works as a senior research manager at IBM. They bought the business in September and the handover took effect following the tasting showcase of 2016 competition winners in Sydney last weekend.
The show had its origins in 1982 and grew out of the International Wine & Food Society, in which the Masons were active. It is a unique wine-judging forum because other wine judgings assess wines alone, but this show involves food in its second-phase judging.
Entries are capped at 2000 – first in, first served – and the judges do the first-round elimination judging in much the same way as other shows: by variety and without food. They reduce the 2000 entries to 400.
These wines are then rejudged with food. They are split into 15 "style classes" of up to 40 wines, and each of these classes is rejudged in a leisurely fashion, with a plate of appropriate food.
With light-bodied dry whites, this might be a hot prawn or scallop-based dish; with aromatics, perhaps a cold ceviche of fish.
Each judge – and there are 14 of them, drawn from all over the world – is required to chew a small taste of the food immediately before taking a sip from each glass. The idea is that the award-winning wines will not only be of high quality, they will have been proven to go well with appropriate food.
The true place of wine is at the dinner table
The idea sprang from Warren Mason's hero, the co-founder of the original Wine & Food Society in London, gastronome and wine and food writer Andre Simon, who died in 1970. He is quoted as saying: "Wine makes every meal an occasion, every table more elegant, every day more civilised."
"Wine makes every meal an occasion, every table more elegant, every day more civilised."
Warren Mason's favourite saying is that the true place of wine is at the dinner table. Any assessment of its qualities cannot seriously exclude food.
During his 18-year term as founding chairman of the NSW branch of the International Wine & Food Society, Mason convened a 1982 dinner to introduce several innovative small-scale winemakers who were doing exciting new things in regions such as Yarra Valley, Margaret River and Adelaide Hills.
These winemakers and others were invited to submit wines they felt might complement the meal of five small courses. the event was a big success and out of it grew an annual judging, the Small Winemakers Competition, channelling wines into the society's Small Winemakers Dinner.
Boutique winery luminaries of the period who entered their wines in the first tasting included John Middleton (Mount Mary – tastings), Peter McMahon (Seville Estate – tastings), Bill Pannell (Moss Wood – tastings), Max Lake (Lake's Folly – tastings) and Brian Croser (Petaluma – tastings).
This event gradually evolved into a larger, more serious event conducted in the Masons' home, and Jacquie Mason, an accomplished cook and professional caterer, prepared the food. As one who judged the competition many times in those days, I can vouch for the quality of the food and the professionalism and thoroughness of the organisation.
In recent years, Jacquie retired as chef and a "celebrity chef" was retained to look after the food. Michael Manners and Tony Bilson were two.
Warren Mason describes it as a "miracle" that they were able to not only sell such a nebulous business, "with so few physical assets, but huge goodwill", but also to find the right people to hand it on to.
"Just imagine if it had gone into the wrong hands, after 36 years of hard work. I am suddenly feeling very relaxed. It's all holding together and they are such nice people. I'm delighted with the change."
He said the formerly "abysmal" IT side of the business would be vastly improved. "They've already shown they'll be good at social media, which we were not."
Initially, James Halliday chaired the competition. I succeeded him. Winemaker Kym Milne MW has chaired for the past 12 years.
The Top 100 Wines
The so-called Top 100 Wines are selected from the judging, win the right to affix Top 100 promotional stickers to their bottles, and are presented for public tasting at the Sydney exhibition.
The awards presentation dinner (for many years, it was an all-day affair encompassing lunch and dinner, nick-named the "Lunner") is a grand degustation event where the trophy wines are enjoyed with appropriate dishes and the awards are handed out.
Up to 15 per cent of the entries (including the Top 100 wines) may win "blue-gold" awards. These wines are listed on the competition's website, accompanied by multiple judges' tasting notes. This is brave, as often their perceptions contradict each other. It underlines the fact that everyone's palate is slightly different.
Last Sunday's tastings were held at the Menzies Hotel. A champagne, Lanson Gold Label Vintage Brut 2005 (previous tastings), was best sparkling wine and best wine of the competition.
There was plenty of value for money among the award-winners, with two wines sold exclusively by Aldi supermarkets winning blue-gold medals, the competition's equivalent of a gold medal.
Aldi's Tudor Shiraz 2014 ($12.99 a bottle – previous tastings) was co-winner of the best lighter bodied dry red wine trophy – which it shared with Angove (tastings) Family Crest Grenache Shiraz Mourvedre 2014 ($19.99). It was the second successive year that Tudor shiraz triumphed in this award. Last year it was the 2013.
As well, Aldi's South Point Rose 2015 (previous tastings), which sells for just $4.99, was a blue-gold medal winner, as was its Blackstone Paddock The Player Shiraz 2014 ($14.99).
Seven medal-winning wines, all priced at below $15, helped New Zealand's Yealands Wine Group win the trophy for most successful exhibitor. Indeed, New Zealand won 14 out of 31 trophies awarded, largely for dry white wines from sauvignon blanc, pinot gris, chardonnay, riesling and grüner veltliner, but also rose and pinot noir. Australia also won 14 trophies – but it had some help, as several of these were for Australian wines only.
Full results are at top100wines.com.