Does heat affect wine?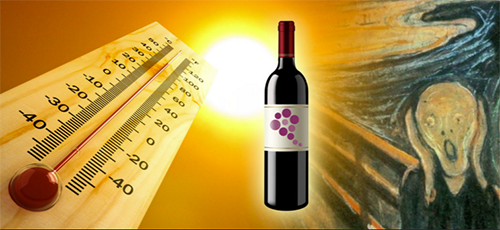 Just how easily is wine affected by heat – in storage or travel?
This is something I have little experience with. Every written advice one reads on cellaring warns against excessive heat, but seldom does anyone actually define 'excessive heat'.
My first cellar was a collection of boxes stored beneath my parents' house in rural western Victoria. The sub-floor was well ventilated so that during hot and windy weather the wine would have become warm. Exactly how warm I'll never know as there was no means of monitoring it. What I can say, is that none of the bottles I drank from that cellar ever showed excessive development, let alone spoilage, after quite a few years of resting there. The longest a bottle would have spent there is 18 years, including some pretty hot summers. Old Taltarni and Stanton & Killeen reds from the late 1970s are still in good nick.
Recently, I was sent samples of a merlot from Ruckus Estate in Wrattonbully. I was away from home and the box was returned to sender by mistake. It apparently weathered a heatwave in South Australia before it was mistakenly re-delivered to me in Sydney. Meanwhile, the sender had despatched two more bottles. (It's normal to send two bottles when a wine is cork-sealed.) So concerned was she, that she asked me to taste the fresh samples and disregard the earlier ones, which she assumed would be heat damaged.
Out of curiosity, I tasted them all – blind – amid regular line-ups of reds.
The result?
First off, I tasted one bottle from each batch, the supposedly heat affected and the non-heat affected. The heated sample showed poorly. It was stale and tired and fruitless. The other bottle, let's call it the control, was very good. I assumed of course that the first one must have been heat-damaged, as suspected.
Just to check, I put the other pair in another line-up. Surprise. Both bottles were very good. I went back to the disappointing bottle. The more it aired and warmed, the more I suspected cork-derived 'random oxidation'. It may have also been subliminally cork-tainted: it was hard to tell precisely.
So, cancel the first conclusion.
Heat damage? No. Not proven.
Cork-derived fault? Yes, proven.
Moral? Don't make too many assumptions about wine. At least not when the bottles have been sealed with a cork.