Wine producers climb on the 'skinsy' bandwagon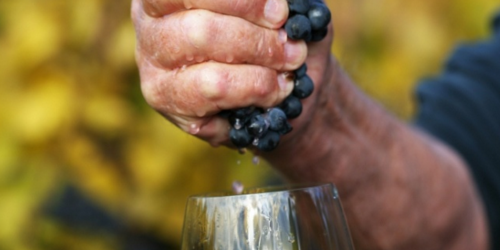 It's interesting how many 'conventional' wine producers are now climbing on the skin-fermented white wine bandwagon. No doubt they can see that a new market has opened up, and there's an opportunity if they can create a wine to suit the niche.
Even David Lloyd, of Eldridge Estate (tastings) on the Mornington Peninsula, an outstanding wine producer with a definite scientific leaning, produced an 'orange' chardonnay in 2013, by fermenting it with its skins. He says it was a bit of fun, which he never intended to actually sell – until some sommeliers he showed it to demanded he sell them some for their restaurants. He labeled it Jurassic as a dig at the oxidative whites of Jura so beloved of sommeliers. It's interesting, and I could enjoy drinking a glass, but it's not a patch on his regular chardonnays.
Lark Hill's Mr.V, a marsanne, roussanne, viognier blend, is a very dark yellow, skinsy white wine with a rather broad, phenolic palate. I liked their 2013 effort (tasting) better than the '14, which seems to have a higher proportion of skin-fermented wine in the blend.
When I tasted the '14 Mr.V alongside Lark Hill's pure 2015 viognier (tasting) – which is delicious, clean and bright – and superb 2015 grüner veltliner (tasting), I wondered why they risked (some might say wasted) good grapes on such an adventure. It's not that they don't know how to make good wine.
The motives seem to be a) a desire to experiment and b) sommeliers in hipster wine bars want these wines for their eccentric wine lists.
Another Mornington winemaker, Kathleen Quealy, is no stranger to skin-fermented whites (or amphora fermentations), but her 2014 Quea!y Turbul Friulano, subtitled 'Post Modern Clarity', wears its natural heart on its sleeve. It's very much an acquired taste – which I confess, I haven't acquired just yet.
The fever is catching. Up at Bright in the Ovens Valley, Jo Marsh has been making some delicious Italian varietal whites, under the Billy Button label, but in her latest vintage, she's gone skinny dipping with her 2015 'Feisty Friulano'. It had 25% skin ferment and then two months on skins afterwards. I preferred the more conventional 2015 malvasia (tasting) and 2015 verduzzo (tasting).
Generally speaking, skin-fermented white wines are typified by a deep yellow colour, often tinged with amber and appearing several years older than they are. There is often advanced development on the nose and palate as well, accompanied by dried-apricot aromas and a high degree of body weight, usually accompanied by tannin grip. Some of these wines also taste oxidized, thanks to little or no sulfur addition – but not the ones I've mentioned here. At the same time, there's a loss of delicacy and refinement.
They're OK if you like your white wines hearty, hefty and chewy. And their cellaring future is uncertain, to say the least.
You'll find them at your nearest back-lane hipster wine bar.
The wines:
Eldridge Estate Jurassic Chardonnay 2013 (tasting)
Quea!y Turbul Friulano 2014 (tasting)
Billy Button The Feisty Friulano 2015 (tasting)
Lark Hill Mr.V Marsanne Roussanne Viognier 2014 (tasting)
Some others recently encountered:
2015 Logan Weemala Pinot Gris (14% had skins fermentation, then a further 20 days maceration on skins – tasting)
2015 Hoddles Creek Estate Whole Bunch Fermented Pinot Gris (tasting)
2015 Punt Road Airlie Bank Sauvignon Blanc (tasting) (and Punt Road Chemin Chardonnay)
2014 Tscharke Project Savagnin (tasting)
2015 Dirty Black Denim Whole Bunch Sauvignon Blanc