VIPs visit five wine regions in two hours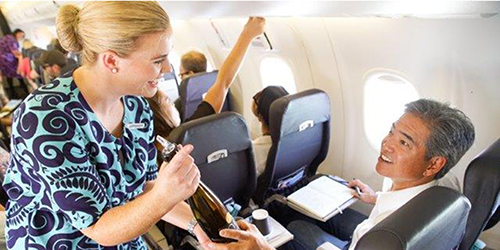 More than 60 wine media, trade and sommeliers enjoyed a unique 'Wine Flight' last Thursday thanks to Air New Zealand and New Zealand Winegrowers.
Two Air New Zealand Q300 aircraft took off from Blenheim and cruised at 11,000ft, taking in spectacular views of some of New Zealand's best-known wine regions, including Marlborough, Nelson, Martinborough/Wairarapa, Hawke's Bay and Gisborne.
On board, the VIP passengers enjoyed wines from some of the regions they're flying over, including a Nelson Albariño, a Martinborough Pinot Noir and a Hawke's Bay Syrah.
Air New Zealand Chief Marketing and Customer Officer Mike Tod says the Wine Flight is a major opportunity to showcase New Zealand wine and wine regions to a highly influential global audience. Mr Tod added;
"The passengers we carried on the Wine Flight come from 11 different countries and are leading figures in the global wine industry. The combination of the publications many of them write for and their extensive social media reach will create significant exposure for the New Zealand wine industry and New Zealand as a destination for wine tourism,"
New Zealand Winegrowers' Global Marketing Director Chris Yorke said;
"The Wine Flight allowed us to offer this highly influential group of global wine media and trade representatives a totally fresh perspective on New Zealand wine, by flying them over the stunning regions that produce the fantastic wines that they'll be tasting."The group has been in New Zealand to attend the inaugural International Sauvignon Blanc Celebration last week, with many also attending the Chardonnay and Sparkling Symposium in Gisborne on Thursday and Friday.
Air New Zealand and New Zealand Winegrowers have a strong track record of working together to promote New Zealand wine and wine tourism. Wine tourism is a significant contributor to New Zealand's economy. In the year ended September 2015, more than 500,000 international visitors enjoyed a winery visit as part of their itinerary.
Air New Zealand is proud to be the naming rights sponsor of the Air New Zealand Wine Awards for three decades.