What's a standard drink?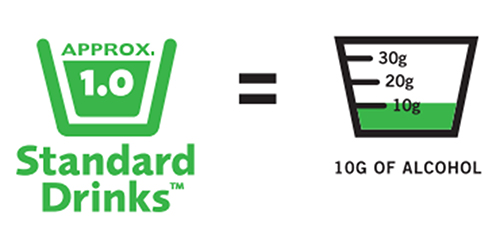 I was asked that question by a student in China and was embarrassed that I didn't know exactly how standard drinks are calculated. Thank heavens for Google.
The answer is, at least for New Zealand, "one standard drink contains 10 grams of alcohol". More correctly it's;
"Amount of drink in litres (the volume of the container) multiplied by the percent by volume of alcohol (%) multiplied by 0.789 (which is the density of ethanol at room temperature) equals the number of standard drinks."
For example, a 750ml bottle of wine which is 13% by volume is 0.75 multiplied by 13 multiplied by 0.789 = 7.69 standard drinks
So far, so useful.
A couple of days ago I was searching the back label of a bottle of Chardonnay for the wine's alcohol when I spotted two different standard drink calculations, one for NZ and Australia (8.2 standard drinks) and one for the UK (10.5 standard drinks).
Reaching for Google again, I learned that a standard drink in the UK is 8 grams of pure alcohol compared to our 10 grams. In the US, a standard drink is 14 grams of alcohol while the fun-loving Japanese measure a standard drink as nearly 20 grams of alcohol. Could that explain why I witnessed a row of smartly suited businessmen sitting on a curb in Tokyo while coughing up their suchi and sake?
It's called a STANDARD drink so why can't that be an international standard?