Grotty glasses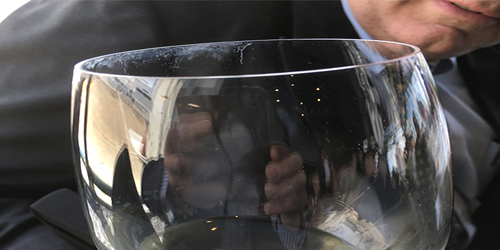 Lip-grunge is one of my pet hates. We all have our little phobias, some more rational than others. Spiders and mice don't really bother me. But grotty glassware in restaurants does. As does food-smeared cutlery.
The above picture was snapped in a highly-regarded restaurant. No names, no pack drill. No need to make a scene: just politely ask that it be replaced.
When we dine in a restaurant, at the back of our minds we know that lots of other people, some with less-than-perfect oral hygiene, have put the same fork into their mouths. We trust that the kitchen staff have washed the utensils properly, not just passed them under a running tap.
We also know – although we might prefer not to think about it – that others have slobbered over the same crystal wine vessels before our lips touched them. And mostly that's OK, unless we're reminded of the fact by the sight of lip-grunge on our supposedly freshly-washed stemware.
There's a problem with automatic glass washers. They might clean the bowl of the glass well enough, but not all of them remove caked-on lip-grunge. That necessitates a damp cloth and a human hand. And there's the Catch-22: the more delicate and beautiful that crystal wine glasses become, the more fragile. Cleaning them properly is a delicate operation that is best performed manually.