Roberto Voerzio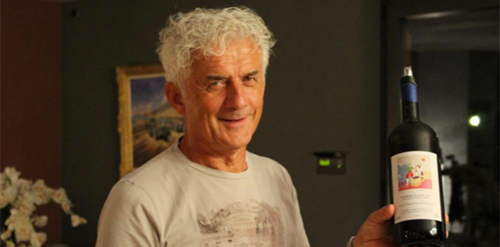 Roberto Voerzio (pictured) is one of the greatest producers of Barolo, but you won't find him in many of the classic books on Barolo. He established his company only in 1986, having split from his brother and father – also Barolo winemakers. His wines first came to Australia in 1995 when Red + White, which is still his importer, brought in the 1989 vintage.
Roberto himself paid his first-ever visit to Australia last December, hosting some amazing tastings. Those present were fortunate because some great wines were served, going back to 2004 vintage, but the bad news is that only two of the wines were available. Even those were in short supply, because of strong demand and limited production. This is despite the prices being at the top end of Barolo's range: the available wines, both from the 2009 vintage, were the Cerequio (tasting) and La Serra (tasting), both $300 a bottle.
Ian Cook of Five Way Cellars*, who was also swooning over the wines, commented "Chambolle Musigny with tannin!"
Roberto Voerzio is – like many cutting edge winemakers around the world today – a thoughtful guy who is working as close to nature as possible. Starting with just 2 hectares of inherited vines, he has worked at increasing his domaine by buying land in all the greatest crus where he is able. He now has vineyards in La Serra, Brunate, Cerequio, Sarmassa, Rocche del'Annunziata and Fossati, as well as good vineyards of dolcetto, barbera, nebbiolo and merlot. 20 hectares in total, all in the commune of La Morra. His son Davide now works with him.
Fertilization is by cow manure or humus; pruning and bunch-thinning have reduced the yield to 1.5 kg per vine, which is exactly half the yield in his first vintage, 1987. Roberto added;
"Also, we stopped chemical herbicide, pesticide and fungicide. We use only a contact spray for weeds – if we didn't do that, we probably wouldn't harvest a single grape!"
He replanted the vineyards to close spacing: between 7 and 8,000 vines per hectare, instead of the previous 2,500.
As well as green harvesting (cutting off excess bunches to leave five clusters per vine), he routinely snips off the bottom part of the bunch, which leaves only the more concentrated, riper, top half.
In the winery, Roberto's policy is never more than 30 days on skins – a far cry from the old days when several months wasn't uncommon!. All the wines except dolcetto go into oak, and Barolos receive two years in barrel. There is a mix of old and new oak, small and large – some parcels are small and necessarily have to go into small oak – but there is never more than 30% new. And it's all French. There is no sulfur added pre-fermentation, and the wines never have more than 100 mg/litre of total sulfur dioxide (the law allows 150).
These are powerful, concentrated, statuesque Barolos. They are also long-living Barolos, but the other side of that coin is that they need time. "Barolo really starts to express itself after 10 years," says Roberto.
We tasted nine wines, including two barberas (tastings), from the vintages 2011, 2009, 2008, 2007 and 2004 (all tastings). I rated none of them less than 95. The highest, the 2009 Cerequio and 2004 Fossati / Case Nere Riserva (tasting), both scored 98.
Gob-smacking wines!
*If you want to track down a bottle of Roberto Voerzio, Five Way Cellars would be a good place to start hunting.