Stanbuli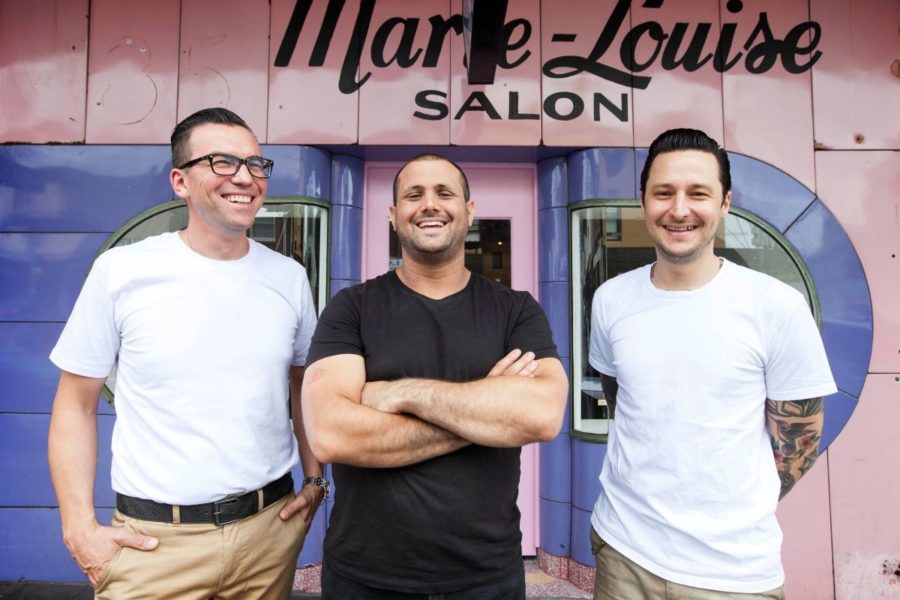 Signs can be misleading. "Caution Pedestrians Slippery When Wet" was one in LA last year that made me laugh. And there are some everyday signs that can cause you a moment's pause, like "In case of fire do not use lifts". But on the other hand, there are also signs that are shamelessly deceptive. Like the one in a window in the West Village, NYC, that says "Psychic and Live Tarot Reader". It cleverly conceals the location's actual identity as the raucous Employees Only bar. Then, of course, there's that place on York Street in Sydney's CBD, called Spooning Goats. Enough said.
Stanbuli loiters anonymously on Enmore Road, Newtown behind a pink and lilac façade with a street awning that reads "Marie-Louise Salon". It's a vintage '50s hairdresser shopfront that reminds me of a Barbie Glam Play Set my daughter used to love. So what are they playing at? 'They' are business partners and Porteño dudes Elvis Abrahanowicz and Joe Valore, together with ex- Porteño chef Ibrahim Kasif (pictured).
Well, if you know something about the retro grooming and vintage beauty interests of the extended Stanbuli/ Porteño crew, they might be considering the option of offering a victory roll perm, pin curls or a Rockabilly quiff with every mezze plate. Just kidding.
Speaking of mezze, Aman Tanrım! the raki mezesi are very good here. Chef Kasif takes the road less travelled. For starters forget traditional Turkish vine leaf dolme, haydari dip or kebab with pilaf; instead think refined renderings of popular street snacks such as midye dolme: tender, small mussels stuffed with rice infused with pepper and allspice, served on the shell; and their balik ekmek ($10), the ubiquitous fish sandwich found portside in Istanbul (mackerel, pickled turnips, onion, lettuce), lovely with a glass or two of Efes.
At Stanbuli, the vibe approximates one of those hip meyhanes you find around the marina in Istanbul's Karaköy district. At street level it's elegant black and white tiles, a long counter bar where you can perch for a glass of raki (straight or with chilled water) and share a good-value plate of excellent, spicy pastirma (house-cured with chilli, garlic and cumin), draped with green peppers that occasionally deliver small atomic mouth explosions ($9); or a chilled lamb's brain salad, purslane yoghurt and chargrilled olives ($15) which is a first for me in any Sydney restaurant. Oh, and it's delicious too.
Stanbuli is a mirror to contemporary Newtown. Tonight we're a group of four, spread out along the bar downstairs, hemmed in by the usual suspects – grassroots inner-city musos, demented poets dulling the pain with tequila, IT geeks, lifestyle TV producers, unassuming, well-dressed gay boys and recently-divorced women of a certain age dining in pairs. I find myself talking to a young woman with electric blue eyes and straight hair, wearing a t-shirt that reads "Cigarette me, big boy".
Our octopus tentacles, braised to a hard-to-believe tenderness that just stops short of being too giving to the bite, finished on the charcoal grill and served with creamy tarama ($30), are one highlight of the night; another are the Kuzu Pirzola: Flintstones-sized lamb cutlets, seasoned expertly and with a beguiling charcoal smokiness that has invaded the sweet tender meat ($38).
The challenge of finding a red or white wine for your meal at Stanbuli, from a list of quite a few unfamiliar Portuguese and Turkish names, is matched only by the enthusiastic suggestions of the young and accommodating staff. There's no upselling here, so don't be ashamed to stay with the crowd-pleasing house guzzlers by the glass, from Turkish producer Majestic (sauvignon blanc or shiraz – $11).
With its cool loose-limbed vibe, co-existing comfortably with a fidelity to authentic Turkish flavours, Stanbuli is an elegant outsider in a traditionally patchy genre for Sydney. It might just be setting the bar higher for inner-city Turkish dining in general.
Now that's a good sign.
Stanbuli
Address: 135 Enmore Rd, Enmore, NSW
Phone: (02) 8624 3132.
Web: stanbuli.com.au
Email: enquiries@stanbuli.com.au
Open: Wed-Sat 6pm–late; Sun 12pm–9pm
Price: Mezze $14 – $18; Charcoal $20- $38; Dessert $14
Rating: 21.5/30
How good was the food? 7.5/10
How good was the wine list? 3/5
What was the service like? 4/5
Did the atmosphere work? 3.5/5
Is there an X Factor about this place? 3.5 /5