Greywacke's wild side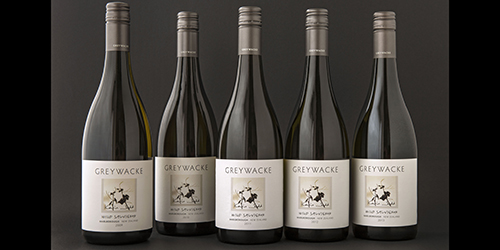 Wine drinkers had high expectations when Kevin Judd resigned from his position as chief winemaker/manager at Cloudy Bay to "do his own thing".
Kevin had been at Cloudy Bay (tastings) from the beginning, with a long spell as chief winemaker. Under his watch, Cloudy Bay had developed Te Koko (tastings), a radical wine in its day that was fermented in oak barrels using wild yeasts and given a long period of oak maturation with full malolactic fermentation (a technique that I believe has been scaled back in recent years).
Judd did not disappoint his fans. His adventurous Greywacke Wild Sauvignon (tastings) has since developed a cult following.
This is not a vineyard specific wine. The latest release from the 2013 vintage brings together fruit from various vineyards in the Southern Valleys and Wairau Plains. Some vineyards were harvested by machine and the rest by hand. All of the grapes were lightly pressed and cold-settled before being racked into mostly French oak barriques. About two-thirds of the wine went through malolactic fermentation, then was racked into tank after six months where it spent five months on the yeast lees.
The wine was made by Judd at Dog Point winery, home to ex-cloudy Bay winemaker, James Healy.
I have already tasted all of the wines over the past five years and have added new tasting notes to the historic notes, as well as changed the score where necessary.
The wines clearly demonstrate an ability to age well. Time in bottle appeared to (not unexpectedly) result in a gradual loss of fruit and an increase in savoury, toasty characters.
The latest tasting of the 2009 Wild Sauvignon (tasting) showed a slight improvement on its earlier score thanks to greater complexity and an improvement in texture although the wine is probably at its peak.
I liked the 2010 (tasting) vintage even more. It has a pronounced matchstick/funky character that seems to be in tune with other bottle developed flavours. A complex wine with real character.
The 2011 Wild Sauvignon (tasting) showed definite varietal character despite having obvious winemaking and bottle developed complexity. I liked it when first released, it has changed a lot but I like it as much now. Who says Sauvignon Blanc can't age gracefully?
Similarly, the 2012 Wild Sauvignon Blanc (tasting) was as good then as it is now so no change to the score and the wine has altered much in a year.
The latest vintage of Wild Sauvignon Blanc from the 2013 vintage (tasting) is more delicate and fragrant than usual though not lacking in power or complexity. It was love at first sip from me.