Times are changing in Spain's Rioja wine region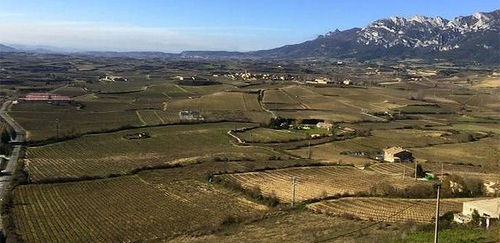 Driving into Rioja from France, I encountered thick fog. With the encroaching darkness of evening, the fog made driving hazardous and finding a destination chancy. The locals all said, "It's been like this for 10 days. It's normal. It's because of the river."
The River Ebro runs through the region, dividing the northern Basque section, Rioja Alavesa, from Rioja Alta. The fog stayed for another day-and-a-half, then lifted, revealing stunning views of mountains, vineyards and hilltop villages. It was as though someone switched a light on. If Rioja Alavesa is this beautiful in winter when all is browns and greys, imagine what it's like when the vines are in leaf. You need to go back in spring.
Spain is the world's biggest wine-producing country and Rioja is its second-largest wine region. With all those vines, it's no surprise it makes some of the best-value wine in the world.
Many of the winemakers are worried that changes by regulators will encourage more low-grade wine, which could damage Rioja's image, an image that already eroded by Rioja Reserva selling in supermarkets for as little as €3.65 ($5.60).
Just a few years ago, a nationwide ban on irrigation was lifted. As of January 1 this year, restrictions on new vine plantings have been eased to allow farmers with land to plant new vineyards. Until now, they could plant new vines only if they pulled out old ones. There's a limit, though: just 1 per cent increase per year of each European nation's vineyard is allowed. "The signs are that there will be a big increase in quantity and it will be at the lower quality end," Ana Rodriguez, of Artadi winery (tastings), says.
Even in Australia, we can buy a very decent bottle of Rioja red for very little in places such as Aldi supermarkets. Generally, Crianza sells for less than $20 and Reserva for less than $30 from some of the biggest wineries in Spain, such as Marques de Riscal (tastings), Marques de Murrieta (tastings), Marques de Caceres, La Rioja Alta (tastings), Bodegas Muga (tastings) and Lopez de Heredia (tastings).
Rioja's labelling laws provide for levels of quality that correspond to the length of time the wine is aged before release. They are, from youngest to oldest, Joven, Crianza, Reserva and Gran Reserva.
There is plenty of expensive Rioja, too. Increasingly, smaller and newer producers are bottling limited quantities of wine from some of their best vines as single-village or even individual vineyard wines. Simultaneously, there is a move to challenge the status quo, so that quality-minded winemakers can raise standards. The laws that govern Rioja prohibit wineries putting place names on their labels. They're not permitted to use the quality designations Reserva, Gran Reserva and so on if they do. The wine can only be labelled Rioja.
Some wineries, including Artadi, have rejected the rules and announced they're dropping "Rioja" from their labels. Others are keeping Rioja, but eschewing Crianza and Reserva in favour of local place names.
Telmo Rodriguez (tastings) produces Rioja wines at his family's Remelluri winery (tastings) with district names San Vicente and Labastida. Artadi is labelling four single-vineyard wines: the super-expensive and highly collectable El Pison (tasting), and its siblings Valdegines (tasting), La Poza de Ballesteros (tasting) and El Carretil (tasting). All come from a single village, Laguardia.
Artadi announced recently that it would in future not label any of its wines Rioja. This is a protest against the regulatory authority's failure to keep up with the times. Artadi reasons that the rest of the world is today seeking terroir and regionality in fine wine, but Rioja is unable to because of the legislation.
None of this prevents a winery producing a single-vineyard wine without declaring it as such. Marques de Murrieta, for example, is the oldest and one of the biggest wineries in Rioja, and all of its wines come from its own estate just outside Logrono. They are single-vineyard wines, although their labels don't make that claim, and conform to the Reserve and Gran Reserva labelling laws. The same goes for Lopez de Heredia's celebrated Vina Tondonia, also a single-vineyard wine.
Another top producer, Remelluri, has reverted to being an estate-grown wine, starting with its coming release of 2009 Reserva. Winemaker Telmo Rodriguez is among the new wave of younger vignerons wanting to change, improve and make wines of terroir. His own wines under the Compania de Vinos de Telmo Rodriguez label espouse regional naming: his Lanzaga wines are all from the village of Lanciego, and this is declared on the labels.
It's the start of a brave new era for Rioja. There are signs the fog is lifting.