Winefulness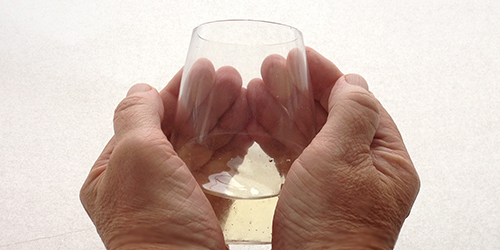 Winefulness is a term I've coined to describe a process that I've been teaching in my wine course for the past 30 years. A fiddle with Google revealed that others have used the term before, though often in a slightly different context.
Most people only really think about a wine when they take their first cautious sip. The same is true of food. We are programmed by our ancestors to be cautious.
Have you ever said to someone "I had a great wine last week" then couldn't remember its name? That's probably because you put a lot of effort into deciding whether the wine was good or bad when you first tasted it, but very little effort on the characteristics of the wine that pleased you, and even its name.
Winefulness is all about focus. It's about going beyond whether you like a wine or not and exploring the characteristics of the wine. It's an evidence gathering process that will greatly speed up your understanding of wine. Try the following exercise, adapted from the mindful tasting of a raisin by Kabat-Zinn, the man who popularised "mindfulness" in the West.
A First Taste of Winefulness
Holding
First, take a glass of wine and hold it in the palms of your hands. Focusing on it, imagine that you've just dropped in from Mars and have never seen an object like this before in your life.
Seeing
Take time to really see it; gaze at the wine with care and full attention. Let your eyes explore every part of it, the hue and depth of colour on the rim. Is that different to the colour when you look through the glass? Is it bright or dull? Can you imagine what the wine might taste like?
Touching
Roll the glass in your hands, exploring its texture, maybe with your eyes closed if that enhances your sense of touch. Sense the temperature. Feel the temperature.
Smelling
Holding the glass beneath your nose, with each inhalation drink in any smell, aroma, or fragrance that may arise, noticing as you do this anything interesting that may be happening in your mouth or stomach.
Placing
Now slowly bring the glass up to your lips, noticing how your hand and arm know exactly how and where to position it. Gently place the rim between the lips, without sipping, noticing how it gets into the mouth in the first place. Spend a few moments exploring the sensations touching the rim with your lips, exploring it with your tongue.
Tasting
When you are ready, prepare to sip the wine, noticing how and where it needs to be in the mouth for optimum taste. Then, very consciously, take one or two sips and notice what happens in the aftermath, experiencing any waves of taste that emanate from it as you rinse it around the mouth contacting all parts of the tongue and the mouth roof. Without swallowing yet, notice the bare sensations of taste and texture in the mouth and how these may change over time, moment by moment, as well as any changes in the wine itself. Feel its weight, texture and temperature.
Swallowing
When you feel ready to swallow the wine, see if you can first detect the intention to swallow as it comes up so that even this is experienced consciously before you actually swallow the wine.
Following
Finally, see if you can feel what is left of the wine moving down into your stomach, and sense how the body as a whole is feeling after completing this exercise in winefulness.