Vale Bob Oatley and Don Ditter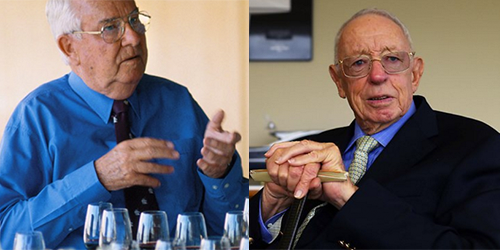 The wine community lost two outstanding people during the holiday period who each gave a distinguished lifetime of work to Australian wine.
Bob Oatley (pictured on the right), the founder of Rosemount Estate (tastings) and later, Robert Oatley Vineyards (tastings), died on January 10 at the age of 87. And Don Ditter (pictured left), former chief winemaker for Penfolds Wines, died on December 16 at the age of 89.
There have been several Bob Oatley obituaries and I need hardly add my observations, except to say that I saw him as a thorough gentleman and a tremendously creative, innovative and energetic asset to the wine industry. From where I stood, he seemed an absolute straight-shooter as a person and in business. When he sold his Southcorp shares to Foster's, Oatley created shock-waves throughout the wine world, but I'm sure he was acting from sincere motives and years later, he was big enough to admit to some regrets. He said he wished he'd acted differently – without going into details.
Oatley was a great Australian, and very patriotic: whether he was promoting wine overseas or sailing his Wild Oats yachts, there was always a sense that he was doing it for his country as much as for himself. When Rosemount merged with Southcorp in a kind of reverse takeover in 2001, he said a key motivation was the desire to keep Southcorp Australian owned. I'm sure he'd have loved to have a crack at the America's Cup, if only he could buy a second lifetime.
Don Ditter succeeded Grange creator Max Schubert in 1973 as the man responsible for the great Penfolds catalogue of red wines (tastings). He was, therefore, Penfolds' second chief winemaker, retiring in 1986, and was followed in that role by John Duval and then Peter Gago.
Ditter was a quiet, gentle man, and while not quite the innovator that the other three have been, he successfully steered Penfolds' winemaking through a period of financial difficulties and ownership and leadership changes, and a relatively lean time for great vintages. One can only guess at what Ditter might have achieved if he'd been fortunate enough to work with the financial climate and soaring global appetite for fine wine that has developed since his retirement.
Two great men; two long lives lived to the full. Vale, Bob and Don.