Riesling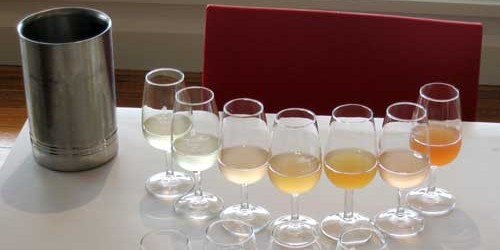 The world of riesling used to be simple. One wine per vintage, and for some producers, a late-picked or 'spätlese' as well. These days, it's more complicated. Many riesling makers have several bottlings each year. These are usually single-vineyard or single sub-region or single region wines celebrating a specific terroir. Sometimes they are wines of multiple sweetness levels.
Mac Forbes does this with his RS series. The RS stands for residual sugar and in the 2015 vintage there are RS 10 (tasting), 29 (tasting) and 56 (tasting) versions, and an entry-level ($25) wine labeled Spring (tasting). This and the sweetest bottling are delicious, but the middle-level wines – while also good – both show some oak characters, which may polarize drinkers. Forbes is using large some Austrian oval vats, which may be still on the young side, imparting some wood character to the wines. The grapes are from the Strathbogie Ranges.
Another winemaker using sweetness levels to differentiate rieslings is Tasmania's Pressing Matters, but unfortunately, I have yet to taste the latest vintages. This vineyard makes four numbered wines with commensurate sweetness levels: R0 (previous tastings), R9 (previous tastings), R69 (previous tastings) and R139 (previous tastings). As with Mac Forbes, all refer to grams per litre of residual (unfermented) sugar.
Other outstanding wines I've reviewed recently include the new releases of Bay of Fires (tasting), Crawford River (tastings), Framingham (tastings), Pooley (tastings), Elgee Park (tasting) and Henschke's evergreen Julius (tasting).
Pikes, one of the Clare Valley's great riesling makers, has introduced a new wine called Olga (tasting) in an off-dry style, to go with its superb regular wine Traditionale (tasting), and its sublime reserve wine, The Merle (tasting).
Among the 120 rieslings I've recently posted on huonhooke.com, are all 11 vintages of Jim Barry Wines' The Florita Riesling, 2004 to 2015 (tastings). Like Pikes The Merle, this is one of the great wines of Clare, cast in an age-worthy style, and not released for sale until it's at least a year old. The name comes from the former Leo Buring vineyard at Watervale, which the far-sighted Barry family purchased 30 years ago. Beautiful wines indeed.
In celebration of the 'summer of riesling', I will re-publish a story on the history of Florita in another item this week.