Powdery Mildew threatens vines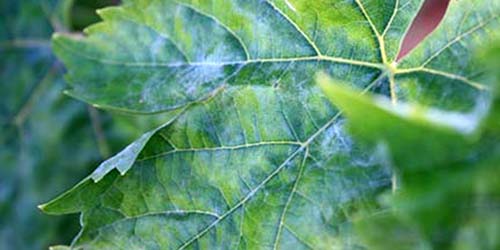 If you are becoming sick and tired of the often gloomy, overcast weather this summer, spare a thought for the country's wine producers – these are ideal conditions for the development of powdery mildew, also known as oidium.
This fungal disease is a native to North America where the local vines have developed resistance to it. But it's a real problem to the European vines, Vitis vinifera, which accounts for virtually all the vineyard plantings in this country.
The fungus doesn't like UV light and thrives on overcast days. All green parts of the plant are susceptible. It produces a fine, translucent, cobweb-like growth that develops into a distinctive powder-like dusting that is very evident on the leaves (pictured) but also attacks stalks and grapes.
Powdery mildew saps the vine's strength often preventing berries from reaching full size. Red grapes often fail to develop full colour. Wine made from infected grapes loses its fruity aroma and can develop earthy, mouldy, wet fur off-flavours. If the disease gets out of control the entire crop may be written off.
Sulphur sprays can be effective in fighting the fungus, although it does appear to be building resistance to conventional sprays which now need to be used more often.