Large wine producers threaten Marlborough vineyard map project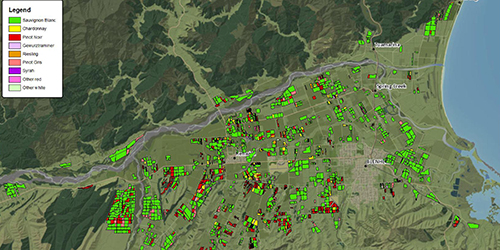 Wine Marlborough's attempt to produce a detailed, accurate map of Marlborough vineyards is being hampered by the lack of co-operation by a handful of large wine producers, according to general manager Marcus Pickens.
"The project is under consideration by one large producer, has been rejected as offering no benefit to another, and we can't get a response from a third", said a frustrated Pickens.
Contributions by 70 to 80 wine producers provided detailed vineyard information to 40% of the map (see above) but it really needs to be much higher than that before it's of real use to winemakers and grape growers.
Vineyard owners are encouraged to contribute data on grape variety, clone and the year the vines were planted. They can then gain access to detailed data on their own vines but can only view the grape variety information on the vineyards of other producers. "We hope to add data on soil type, rainfall and topography in the future", explained Pickens.
It's an exciting project with obvious marketing and production benefits. Vineyard owners will be able to show the exact location of their vineyards to clients in export and domestic markets. They can also use the data to help plan future plantings. The map will help strengthen biosecurity.
It would be a pity if the project was jeopardised by the selfish interests of a few.