The Pinot Shop – just like wine shops used to be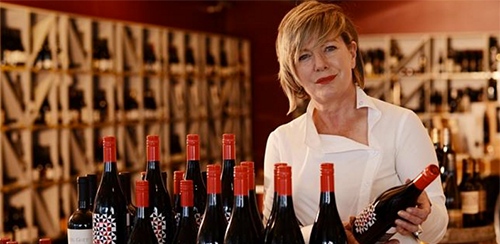 The Pinot Shop in Launceston is a great wine shop – it's like wine shops used to be. How I miss them!
You walk in from the blinding sun of Paterson Street and it's cool. There is space: you don't have to squeeze between the rows of bottles and boxes, in terror of knocking things over. The range is terrific – not the widest range you can find, but each bottle is there for a reason because proprietor Michele Round (pictured) has hand-selected them.
You will find great wines there, beautifully displayed. Particular strengths at the moment are rosés, including Provence rosés; Champagne and Tasmanian sparkling wines; Chianti and Tuscan IGTs; affordable French reds from places like the Côteaux de Languedoc. And of course, Tasmania. You'll find rare Tassie wines here that are seldom seen in other shops.
It's not all pinot noir, of course: we all love pinot, but man (or woman) cannot live on pinot alone. There was even a display of Torbreck (tastings) big bottles when I called in last week.
On the counter are some open bottles, and Michele will happily pour you a taste and fill you in on the back-story of what you're drinking. It's just as likely to be Tasmanian whisky, gin or fruit-flavoured eau-de-vie as wine.
Michele is a wine and food writer and taster of considerable experience, who 14 years ago turned her hand to retailing. She sends out regular emailings which are informative, well-written and appetite stimulating. And perhaps most surprising: more than half Pinot Shop's business is on the mainland. It ships wine at reasonable freight rates.
A lot of Tasmanian wine is never retailed across the Bass Strait. Pinot Shop is the place to go hunting for it. Of course, you can buy it direct from the wineries, but the advantage of this shop is that you can buy mixed cases of this and that. It's highly recommended.