Gala Estate wins big at Tasmanian Wine Show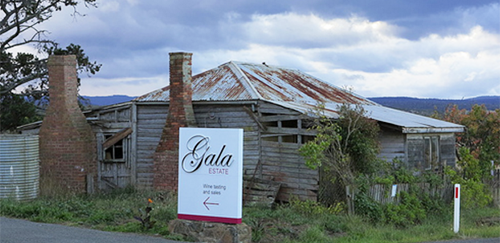 Gala Estate (tastings) is a new star in Tasmania's wine firmament, bursting onto the scene last week at the 2016 Tasmanian Wine Show, which I helped judge in Launceston.
The East Coast winery's 2013 Gala Estate Constable Amos pinot noir (tasting) won three trophies – for best three-year-old pinot noir, best pinot noir, and best red wine of the show. The vineyard is on the East Coast near Cranbrook, on the same stretch of coastal land as Milton (tastings) and Kelvedon (tastings). Like them, it's on a very old family-owned grazing property. In Gala Estate's case it is the Greenhill family, whose property was established in 1821. It's recognized as the second-oldest family business in Tasmania. Grapevines weren't planted until 2008. Today's generation is represented by Adam and Bronya Greenhill, and the wines are made under contract by Winemaking Tasmania.
At the Tas Wine Show, there was a boil-over result in the sparkling wines. A non-vintage bubbly, Pirie NV (tasting), won not only best non-vintage sparkling wine of show but best wine of show, beating the Gala Estate pinot and an outstanding chardonnay, Derwent Estate Calcaire 2014 (tasting), for the title. This inexpensive wine, priced around $32, has won gold medals in the past, but to knock off the vintage wines including its stablemate, the 2009 Pirie Vintage Pinot Noir Chardonnay (tasting) was quite an achievement. I've drunk a bit of this wine since the judging and have to say it was no aberration: the wine is a knock-out – to say nothing of spectacular value for money.
The Derwent Estate Calcaire is the flagship chardonnay of this property and as the name suggests the vines are on calcareous soil. It is a supremely refined style, and dare I suggest there is a subtle aroma of chalk as well as a chalky texture to the wine, much as you find if good Chablis. It's a terrific drink with oysters. Viticulturalist Andrew Hanigan tells me it's the first wine made in the new winery by the new resident winemaker John Schuts. Previously, the wines were made at Winemaking Tasmania. Derwent Estate is another historic old grazing property: it's been in the Hanigan family since 1913.
If you want a chardonnay to go with richer foods, such as roast chicken or grilled Tasmanian crayfish, go no further than Freycinet 2014 Chardonnay (tasting), which I gave my Chairman's Trophy. This is awarded (blind) to a wine that the chairman deems of special merit, but which did not otherwise win a trophy. This is a full-bodied, richly flavoured lemon-and-grapefruit style, again from the East Coast region.
One other wine worth singling out for special mention is the 2015 Pooley Margaret Pooley Tribute Riesling (tasting). This won two trophies – for best 2015 vintage wine, and best riesling of show. From the Coal River Valley, this is a true classic: a refined, subtle, age worthy and slow developing style with a pale colour, pristine floral aroma and delicate but intense palate flavour of great line and length.
The full show results should be posted on www.taswineshow.org very soon. Tasting notes for the above wines are now on huonhooke.com, and my complete tasting notes will be posted by mid-February.