'The Happiest Refugee' by Anh Do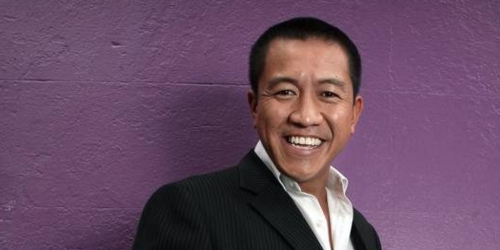 I can't visit a new or second-hand bookshop and walk out empty-handed. Consequently, I always have a large pile of books by the bed, waiting to be read. The book I've just finished cost $10 at a second-hand bookstall in one of those open-air jumble markets. It's the most enjoyment I've had from $10 for a very long time.
I saw Vietnamese-born comedian Anh Do (pictured) perform at a charity dinner a few years ago, and was won over. He has a great blend of humour and drama in his stories, many of which are autobiographical. It's the same with this memoir: as a two-year-old he came to Australia on a leaky, overloaded boat from Vietnam and the vessel, skippered by his never-say-die father, was attacked by pirates and very nearly didn't make it.
Anh is well-known to commercial TV viewers (not me), as he seems to have been on every celebrity show invented. He learnt to dance so he could compete in Dancing With the Stars. And on it goes. The guy is enormously resourceful, optimistic and positive in every aspect of his life, and he sees the funny side of every drama.
He is happy making fun of himself, and many of his yarns show a self-deprecating side. Such as when he decided to go into stand-up comedy in the belief he would earn big money. More than in the major law firm which had just offered him a well-paid and secure job. He didn't realize the comics he'd taken advice from had been slaving for 10 years and were among the handful at the top of the game.
Animals loom large in his life. Taking after his dad, Anh was always adopting animals as a kid and when his Siamese fighting fish failed to fight and instead produced babies, for which the local pet-shop paid handsomely, he decided to go into fish breeding, with hilarious and somewhat disastrous results.
Highly recommended.
The Happiest Refugee, A Memoir by Anh Do (Allen & Unwin, 2010).