The force awakens with wine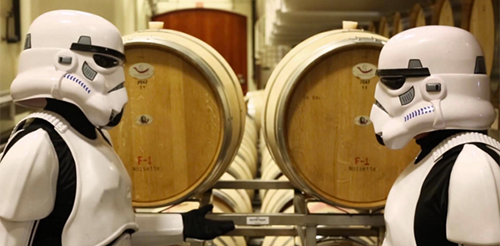 I'm sure we've all been at dinner tables where wine is being discussed, and one person (usually a man) voices the loudest opinions. He dominates the discussion, and if the group tacitly acknowledges his expertise on the subject of wine, it's often apparent that his opinions are adopted by the group.
At some tastings I've attended, where people are randomly grouped in tables of, say 10, a person at each table summarises that group's opinion of a wine, and then the table leaders are asked to give their verdicts to the room. The opinions often vary wildly.
People's tendency to agree with the expert works in many arenas, especially art. Art is similar to wine in that most people don't consider themselves experts, and they're easily influenced by an opinionated person.
Generally speaking, people like to agree with others; few enjoy being the only person holding a view.
In a recent Sydney Morning Herald column, economist Peter Martin wrote about the blockbuster phenomenon which is especially apparent in movies such as the new Star Wars, The Force Awakens. With films and TV series, the desire of people to see what everyone else is seeing so they won't be left out of conversations is a real phenomenon. Martin quoted some 2006 Columbia University research.
"Researchers … set up a fake market in which 14,300 internet users were asked to rate 48 previously unknown songs. Those who were told how others rated the songs were far more likely to agree with their peers."
It's a very good article.
http://www.smh.com.au/comment/the-force-that-binds-star-wars-trumps-the-long-tail-20160103-glymu6.html
Regarding wine, my advice is to always think for yourself and form your own opinion in private, before discussing with others. If some loud-mouth tries to tell you what you should like or dislike, politely ask him to hold his tongue till you've had a proper taste of the wine.