'The Little Black Book of Wine' by Joelle Thomson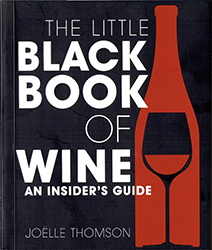 This is a non-scary book on wine. Perfect for anyone who has been bitten by the wine bug but feels slightly intimidated by wine jargon and the sheer scale of wines on offer.
Like me, Joelle teaches wine classes. That provides a real, rather than imaginary, audience for our wine writing, a factor that's very evident in this small but punchy book (small is good because big can be intimidating). She has an ability to reduce technical and complex issues to a level that will make sense to most readers. While that does in some cases lead to oversimplification it, at least, gives a push in the right direction.
I particularly like the section on 'Buying Wine' and agree with Joelle's fine wine retailer recommendations, though found the inclusion of distributor, Bennett & Deller a little puzzling although Joelle does list some of her favourite wines stocked by B & D.
Joelle zeroes in on topics of high interest in the chapter 'What's in my wine?' with a detailed discussion on the much maligned (and misunderstood) additive sulphur dioxide, as well as the thorny issue of 'natural' wine.
*'The Little Black Book Of Wine' is published by New Holland. RRP: $24.99