Wine, the JAL experience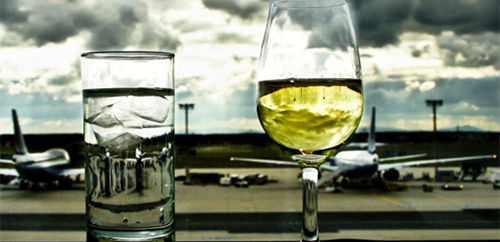 I have a confession to make. I'm one of those bores you see in airport lounges in countries far distant, tasting and making notes on everything that's on the bar. I draw the line at the offerings in Australian domestic airports: it's the exotic stuff that gets me when I travel. I also try to taste everything that's served on the flights, and cabin attendants get a bit tired of me pushing the call button.
Having just completed four legs to and from Europe on JAL business class, here are my thoughts. (NB: I paid my own way.)
Air France codeshare Business Class lounge, Charles de Gaulle airport (30/12/15)
JAL Sakura lounge at Tokyo's Narita airport (4/1/16)
At first glance, not nearly as interesting as the Paris offering.
Sileni Sauvignon Blanc, Marlborough 2014 (12%) – A typical pungent Marlborough savvy, with exaggerated tropical fruits. (tasting)
Reyes de Aragon Brut Reserva Cava, Spain NV (11.5%) – A very pleasant sparkling wine, showing some aged character and not a simple, young, fruity style. (tasting)
Ironstone Vineyards Cabernet Franc, Lodi, California 2013 – Dark berry, tomato aromas, smoky tobacco, cigar-butt aromas, and very soft. (tasting)
A selection of Japanese sakes, as well as the customary spirits.
General finding: the wines seem to be chosen to fit the 89 to 90 point range, according to my scale. That's pretty reasonable. You do find the occasional wine that over-delivers, such as the Jaboulet Crozes Hermitage at Charles de Gaulle.
On the planes
The same selection was offered on each leg in business class.
All pretty decent wines, but it's worth mentioning that I had a corked bottle of the Delamotte and the Roux, and both were replaced swiftly when the fault was pointed out (but I wonder how often others drink corked wine without complaint).
The food was excellent. I ate the Japanese menu every meal and the bento box of nine colourful dishes in 'Kobachi' bowls were mostly delicious. One or two were a little bland, but things like chrysanthemum garland dressed with dried persimmon in sesame sauce were 'oi-shi' as well as surprising. And the amuse-bouche of foie gras mousse and shrimp with mayonnaise – in separate dishes – was superb, especially when there was Champagne in the glass.
I also like the way they don't automatically serve a second meal later in the flight, but you can order a hot meal whenever you like, up to 90 minutes before landing.