Champagne and sparklings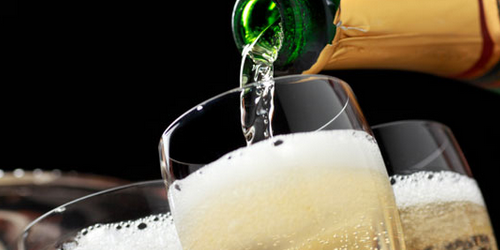 My latest sparkling and Champagne tasting yielded many superb wines. I do expect high standards from top Champagne houses, while the 'discovery' excitement comes from local producers releasing smart wines.
This time, there are fine sparklings from Tasmania's Stefano Lubiana (tasting) and Delamere (tastings), Bay of Fires (tasting) and Arras (tastings), Moores Hill (tasting), Clover Hill (tasting) and Bream Creek (tasting). From the Adelaide Hills, Deviation Road (tastings) continues to do good things, and in WA's Swan Valley (but using fruit from Pemberton for its top wines) is Sittella (tastings), a small family-owned business whose winemaker is Colby Quirk, ex-Domaine Chandon. There are some crackerjack wines from these wineries.
The Champagnes include the mesmerizing 2009 Louis Roederer Blanc de Blancs (tasting) and surprising Brut Nature 2006 (tasting), the wonderful 2006 Taittinger Comtes de Champagne (tasting), Boizel's very good non-vintage (tasting), the 2004 Dom Perignon Rosé (lovely, but beware the price! – tasting) and three wines from a new import, Champagne Bernard Brémont (tastings). The last are being imported by the recently-retired chief sparkling winemaker for Treasury's Heemskerk, Abel's Tempest and Yellowglen bubblies, Charles 'Chilly' Hargrave.
Hargrave, now a Sydney resident, decided to bring in his favourite grower Champagne for fun. Brémont is based in the grand cru village Ambonnay on the Montagne de Reims. I've reviewed three wines: the regular non-vintage (tasting), a non-vintage prestige cuvée (tasting) and a 2008 vintage (tasting). All are grand cru wines, and all excellent – rising in quality with price as you'd expect. The prestige cuvée and '08 vintage are exceptional wines and great value at their estimated top retail prices of $81 and $88 respectively.
And the Roederer Brut Nature is surprising because who would expect such a traditional, big maison to come out with a non-dosage wine, apparently following a modish trend? The answer is that Roederer's chief winemaker Jean-Baptiste Lécaillon finds that riper grapes are more prevalent in Champagne these days and with Roederer's low yields and biodynamic vineyard practices, he's able to make a wine that's not only balanced but superb, without need of sweetening dosage. It's simply outstanding.