Spanish travels – Pamplona and Bilbao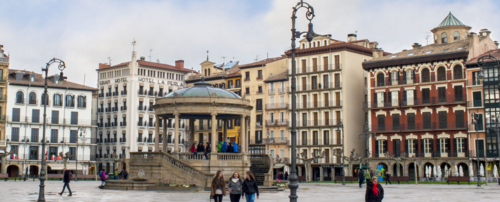 Pamplona (pictured) – no bull – is the place to go if you have a lazy weekend in the middle of your visits to Rioja. Or perhaps Bilbao (of which I'll tell you more later). Pamplona's running of the bulls in July doesn't interest me at all, but off-season it's great.
There is rather a lot of 'Hemingway ate here' and 'Hemingway drank there', but the Café Iruña is the real thing: a superb brasserie-style restaurant, with atmosphere as rich as its hearty bowls of squid served in its own ink. It's strongly recommended for lunch but go early to avoid having to queue for a table. Good hearty food and decent if limited Navarre-biased wine selection.
On the weekend before Christmas the narrow cobbled streets of the old town were jammed with people, rugged up and out eating pintxos (Basque for tapas) and drinking local wine and beer, or just promenading.
For one indulgent meal, we ate at Hotel Europa, a one-star Michelin restaurant that ticked most of the boxes, the food excellent although the service was a bit rough around the edges. Mashed potatoes with runny egg and generous slices of black truffle was just right to warm the tum on a cold night and a lobster dish was also superb. The wine list was ordinary by Australian standards – limited in scope, and with hardly anything available by the glass – but we found a 2005 La Rioja Alta Rioja Viña Ardanza Reserva (33 Euros) which was exactly what I'd hoped for. It's a long barrel-aged, traditional style red, mellow and ready to drink when released at 10 years. For lodging, I'd recommend the Palacio Guendulain, located in the old town: comfy digs with a touch of style.
Everything, by the way, is a palace in Spain. We also stayed at a converted house in Rioja called Palacio Samaniego (also strongly recommended), and while not labeled a palacio, the Hotel Duque Conde in Bilbao seemed to be named with similarly grand intentions. It was more modest, but good value, with very helpful staff. Down south in the rather drab and dusty town of Alfaro, the great wine producer Palacios Remondo (there's that word again) owns a hotel conveniently located next-door, and while it's pretty basic, it's acceptable. I doubt they think of passing it off as Palacios's palacio.
While In Pamplona, you have to visit the magnificent cathedral with its unusual cloister and monks' refectory and kitchen, as well as the superb Museum of Navarre, loaded with relics of the Roman times and some great art.
En route back to France we stopped at Bilbao to revisit Frank Gehry's spectacular Guggenheim museum, which to me ranks as one of the world's greatest modern buildings. It is simply wonderful to look at, both from within and without. Every floor, path and corridor has superb views of the interior architecture as well as the city outside. Louise Bourgeois's spider sculpture, poised menacingly between the museum and the river, is simply great.
As for the museum's contents, I am opinionated about art and have found some of the permanent displays and featured exhibitions lacking. There was an underwhelming African show on when I visited, and the favouring of Jeff Koons is something I cannot fathom. Floral puppies, small or huge, don't do it for me.
However, the permanent collection includes a fantastic selection of Anselm Kiefer works, and the enormous side-gallery devoted to 8 massive steel sculptures by Richard Serra is a place in which I can easily pass more than an hour. These works together constitute a masterpiece. The museum itself is a masterpiece, and that's a word I'd love to bring out more often, but am seldom moved to use. A masterpiece is something that takes your breath away, and that happened quite a lot to me in the Guggenheim.
The finish off the experience, we stumbled into Larruzz Bilbao, a restaurant beside the river just near the museum, for an unexpectedly superb arroz con marisco – or seafood paella. Great flavour, generous seafood, crisp on the edges, al dente in the middle. Just right.