North Shore Hospital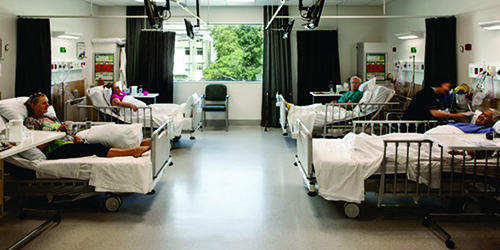 The Elective Surgery Centre at North Shore Hospital is a rather elitist division with its own separate catering facility. That gave me a glimmer of hope that its cuisine might rise above the sort of tasteless nutritional slop normally served to the masses.
After all, surgeons are to medicos what officers are to the military. They drive expensive German cars, are frequently seen with beautiful women and appreciate fine wine. I know they appreciate fine wine because more than 50% of my pre-op conversation with both surgeon and anesthetist had been about wine.
In between chatting about Central Otago Pinot Noir and the 2013 Hawke's Bay vintage the anesthetist described how he would numb me without actually putting me to sleep. I explained that the frequent ingestion of alcohol over a number of years had trained my brain to remain relatively sober while lesser beings might behave like drooling idiots. I don't want to be in a situation where I have a sense of what's going on, I warned and was comforted when he said, "We'll go for a full anesthetic".
As I gradually regained consciousness the first thing that occurred to me was that I was alive, then I noticed people smiling so the operation must have been a success. The clock on the wall read 3:00pm – only two hours to go before the curiously early dinner time. Some people are nauseous after an operation, I was ravenous. It had been 15 hours since I'd eaten.
My hope that The Elective Surgery Centre would deliver a fine meal was encouraged by the dramatic entrance of Yumi, a young and very friendly lady from Beijing. Studying the menu, she announced that the soup de jour would be followed by a choice of butter chicken or boeuf bourguignon. "What's the soup du jour?" I asked. When I'd posed the same question to a young waitress at a restaurant in the South Island town of Geraldine she brightly responded that she would find out, returning minutes later with the news that it was "soup of the day". Yumi informed me it was leek and potato.
Which do you recommend? Yumi looked thoughtful before replying "Boeuf Bourguignon" although her voice lacked enthusiasm. For dessert, there was a choice of plain yoghurt or fruit yoghurt. I opted for the fruit.
At exactly 5:00 pm dinner was served, although I suspected it had been prepared some hours earlier. The soup was lukewarm, tasteless and had a glutinous texture. It perked up with a bit of seasoning from a sachet of salt and one of pepper that I found tucked under the plate.
The Boeuf Bourguignon lacked visual appeal. Machine-cubed carrots and potatoes offered a sort of pleasing symmetry with their 1cm x 1cm x 1cm dimension, but the beef was a rather gray and homogenous mass that looked rather like regurgitated cat biscuits. If a ravenous wolf had stumbled across this meal it would have rejected it after a few cursory sniffs.
The fruit yoghurt (strawberry) was fine.
The meal was not accompanied by wine but a visitor had the good sense to smuggle in a bottle of 2012 Lowburn Ferry Home Block Pinot Noir from Central Otago (tasting). The wine made the dish taste better. The reverse did not apply.
Breakfast offered a considerably greater choice: white or wholemeal toast, butter or margarine, jam or vegemite, cornflakes or Weet-bix, fruit or no fruit and (instant) coffee or tea. Orange juice and a kiwifruit smoothie were optional extras. Recovering from a cocktail of drugs including morphine, paracetamol, codeine, tramadol, gabapentin and Pinot Noir, I was tempted to award breakfast one point but after re-tasting the coffee settled on zero.
I slept through lunch and was given a wholemeal roll with a filling of aged beef and lettuce. The bun and the lettuce were also aged although that may have been partly my fault for sleeping through lunch.
The menu on the second evening was the same as the first. I chose the Butter Chicken and was surprised to discover that it looked and tasted exactly the same as the Boeuf Bourguignon. Sadly there had been a little fuss when a nurse caught me and my fellow inmates drinking Pinot Noir – something to do with a conflict of medication – wine was off the menu.
Summary:
Food 1/10 (it had nutritional value)
Wine List 0/5
Service 3/5 (served with clockwork efficiency and a smile)
Atmosphere 2/5 (minimalist medical chic)
X Factor 2/5 (top value – it's a public hospital so there was no charge)
Total: 8/30 points