Europe blooms in December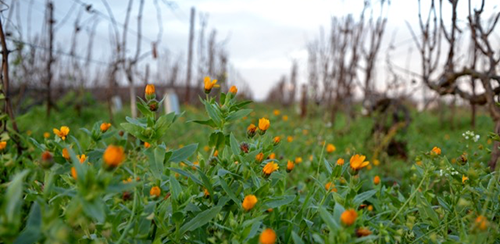 This picture, taken in the Larmandier-Bernier (tastings) vineyards in Avize, Champagne, accompanied the winery's Christmas message.
It shows a cover crop between the vine rows springing into life in December, which is far from common. But the picture is repeated throughout southern France and Spain as temperatures defy gravity in early winter. In Rioja, Maria José López de Heredia, of the ultra-traditional winery López de Heredia Viña Tondonia, said not only was the winter unusually mild so far (and dry), but the calendar year 2015 had been the hottest on record. This is consistent with Australia and seems to have been echoed throughout the world.
As well, López de Heredia said the recent 2015 harvest in Rioja had been one of the hottest ever, and the grapes had been excessively ripe, the wines high in alcohol and low in acidity with high pHs. Some wineries will not produce a 2015 Reserva because the quality was insufficient. It is a major headache for wineries such as López de Heredia, whose red wines are noted for their moderate alcohols, as well as their extremely long aging potential.