The Paddington
It's been a bad year to be a chicken. Not since the Middle Ages have so many of man's second best friend been skewered, engulfed in flames, brined, dried, fried in hot oil and dredged in blindingly spicy concoctions involving paprika and cayenne. Can you smell the chooks sizzling Clarice? 
While we're on the subject, I have to say that the hot birds at the Merivale Group's new-look The Paddington haven't been martyred in vain.
Chef Ben Greeno (ex-Momofuku Seibo) is young, but he has the gravitas and dignity of someone who believes in a quaint old-school idea: that you cook to give your diners pleasure not commands. There's no ego agenda in offering you, as he does, a piece of lightly toasted sourdough swiped through the chicken juices that have pooled deliciously in the bottom of the huge multi-level Rotisol rotisserie in the open kitchen at The Paddington. He just knows you'll love it. And he's right. It's awesome! There's lamb and beef turning on those magic spits, too.
Justin Hemmes has brought Greeno in as part of an overall repositioning of The Paddington, which was once a blokey, grunty old Irish boozer. The new white glazed tiles, painted timber paneling, and dark timber furniture are a long way from the sticky carpets and Stygian gloom of the previous pub. Gone are the silver-tongued patrons with names like Declan glued to the plasma screens and hitting on the local girls.
Now it's cool dudes called Rufus who collect vintage café racers, and a posse of dangerously beautiful women with fried vocals, wearing expensive-looking everything.
Apparently inspired by a traditional British butchery, the light-filled space is from the Akin Creative design team, stylist Amanda Talbot and Bettina Hemmes. They seem to have drawn the line at pork pie hats for the staff.
On Friday and Saturday nights the place is still as noisy as anywhere you've come to expect of a Hemmes venue.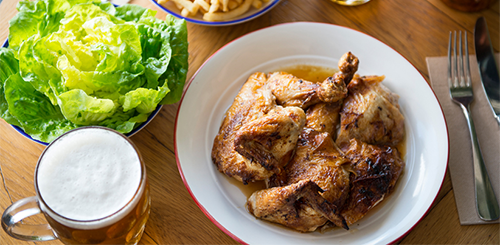 Upstairs on the mezzanine level are more tables, some perched over the kitchen, and a private dining room for 15. Next to that, overlooking Oxford Street, is a cocktail bar in the capable hands of Sam Egerton and Toby Marshall from Palmer & Co. It's a leather-lined inglenook with overtones of an English pub, complete with prints of English country scenes and prizewinning bulldogs.
Tonight I'm in the cocktail bar waiting for a table downstairs to free up. I've requested a Blood and Sand, an old-school mixed drink named after a Rudolph Valentino matador film of the '20s. With that, some refreshing bar snacks: a creamy goat curd, vivid green herb oil and soft pita bread for trailing through it ($21); and a mezze-style skewer of chicken offal – hearts, livers and other bits with eggplant ($18). This one's a delightful beak-to-tail opportunity, all moist and moreish, and it seems to say that at The Paddington nothing from the bird is discarded, except the feathers. Of course, some ninnies will be squeamish about this dish, but I hope it becomes a fixture.
Smoked trout on an English muffin with a runny duck egg ($18) cleaves to the UK gastro-pub mood, but the kitchen's not mortgaged to any particular genre. There are tender pieces of squid with very good house-made XO sauce ($22) and soothing crabmeat mayonnaise on toast, scattered with zippy herbs ($23).
For the main act, I'm moving downstairs to a table in front of the open kitchen. Here it's obvious that those super-duper extraction fans rob you of a pleasure known to all village folk in France: the irresistible fragrance of roasting chicken. Oh well.
So what's the chicken all about? You can have half a chook with fries and a green salad ($28) but that would be a meaningless sacrifice for all chook-lovers. The whole critter, with fries and a green salad ($38), a side of rotisserie carrots ($10 AND the sourdough soaked in chicken juices – ask nicely) is the Tour De Chook challenge. "OMG" a girl called Tabitha mouths at her girlfriends at the table next to me, as she bites into the crisp juice-soaked toast.
My bird is cooked moistly and then jointed nicely. It suffers, however, more than a little, from being under-seasoned. Chicken and salt are the Kim and Kanye of cooking. They're inseparable, so why deny them?
But flaws can be fixed and I'm not about to gainsay the positive shake-up The Paddington has been given by the Merivale Group. The floor staff under manager Carissa Teeling is the A-Team, for the time being. And it's still a place where you can nurse an honest pint and enjoy cheese, oatcakes and chutney. On the other hand, if you feel so inclined, that could easily be a glass of 2014 Breton Beaujolais-Villages Marylou ($15) and a king trout with asparagus mushrooms and spinach ($37)
Just don't hog the chicken juice toast, please.
The Paddington
Address: 384 Oxford St, Paddington
Phone: (02) 9240 3000
Web: Merivale.com.au/thepaddington
Open: Sun-Thurs 12pm-12am; Fri 12pm-3am
Price: Bar food $6 – $23; Rotisserie $28 – $39
Rating: 13.5 /20
How good was the food? 3 /5
What was the service like? 4/5
Did the atmosphere work? 3/5
Is there an X Factor about this place? 3.5/5