Joiy to the world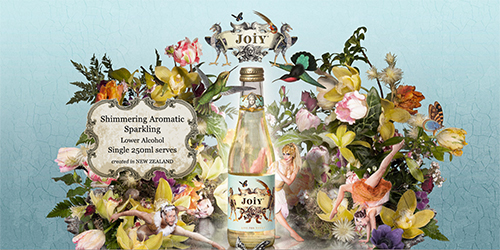 Chris Archer is the most enthusiastic winemaker I know. When he dropped by to introduce me to the joys of Joiy he talked with evangelic zeal about his history in the wine industry and the development of Joiy, a low alcohol sparkling Riesling in a 250ml bottle.
Chris has been making wine for over 25 years. He started with Tyrrell's in the Hunter Valley before moving to Pepper Tree, also in the Hunter, then crossing the Tasman to make wine at Morton Estate (tastings) then Alana Estate (tastings).
Chris is a big thinker. Searching for a new product with global sales potential he studied world drinks statistics. Wine occupied a relatively small share – 16% he claimed, about the same as Coca Cola. It was then that he hit on the idea of creating THE WORLD'S FIRST GLOBAL BEVERAGE WITH ITS OWN CULTURE.
In 2011, Chris produced his first 250ml sparkling Riesling called "Ritzling" but the Ritz hotel objected (they have a house champagne) so the name was changed to Joiy. Although the wine is 100% Waipara Riesling (with an alcohol of 10% and residual sugar of 32 g/l), Chris never refers to it as a "Riesling" preferring to describe it as "a modern spin on Prosecco".
While Joiy is certainly pleasant enough to drink "straight up", Chris encourages it to be served with lemon or fresh mint. "It's great over ice with gin", he claims. The Joiy website www.joiy.co.nz recommends two cocktails: Aperol Joiy (orange, Aperol, Cointreau and Joiy); and an even more adventurous Mulled Joiy (Angostura Bitters, Angostura Orange, Ruby Port, apple juice, a strip of lemon and orange zest and Joiy).
Joiy comes in a pack of four x 250 ml bottles and retails for around $22, or $19.99 on special for the one-litre pack. It won a silver medal at the Air New Zealand Wine Awards. I haven't tried Joiy as a mixer but find the wine perfectly pleasant to drink. It is lightly sparkling with a hint of sweetness, nice acidity and delicate Riesling flavours.
Joiy is available in Australia and Hong Kong and "will soon be winging its happy way to Europe" according to the website. I like the wine, its package, price and concept.
Chris plans to release a premium aged version shortly.