'Land and Wine: The French Terroir' by Charles Frankel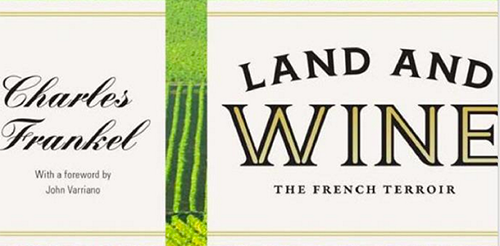 I really wanted to like this book. And I did enjoy much of it. But…
Charles Frankel is a French-born scientific writer and lecturer with a deep knowledge of geology and a love of wine. His book sets out to show how the taste of wine is inextricably linked to the land on which the grapes are grown – which is without question. It is the whole French notion of terroir. Why, for example, do pinot noir wines grown and vinified similarly in two disparate locations – say, Central Otago's Bannockburn locality and the Upper Yarra Valley – taste so different?
According to Charles Frankel, it's because of the land, its geography and geology, its rocks and the soil derived from them. Frankel travels the major wine regions of France to show how varied that country's geology is, at the same time telling us the wines from those soils taste different. He just fails to make a convincing connection between the two.
I consider Alsace one of the world's best examples of terroir in action, and I have to say I admired Frankel's detailed description of the vineyards and the land and its geological origins. His fascination and enthusiasm for geological history comes through in his writing. But he doesn't really explain how the geology produces such different tastes in wines of the same grape from differing soils.
The descriptions of wines are vague; the links he tries to make between soil and flavour are loose. It reaches a low-point when he writes that the limestone and clay mix in the merlot vineyards of Blaye (near Bordeaux) "gives the wine its fruity character", unquote.
On the plus side, I suspect anybody wanting to study the key French wine regions in depth will benefit from reading this book. The author obviously knows his rocks – indeed, you might find his relentless discussion of Jurassic, Triassic and so on a wee bit wearing, as I did. Just take it gently, pebble by pebble.
Frankel serves up 12 chapters on the various regions, or parts of regions, including Alsace, Beaujolais, the Rhône Valley, Bordeaux, Champagne, Languedoc and Provence, and he splits Burgundy into two halves (roughly, north and south), and divides the Loire Valley into three sections: Sancerre and the Upper Loire, Savennières and Anjou, and the central Loire regions of Chinon, Bourgueil and Saumur.
He begins not with one of the most famous regions, but with Savennières because his chapters are sequenced according to the age of the rocks – going from oldest to youngest.
The other issue I have with Frankel's approach is that terroir is due to much more than geology. It seems to me that terroir has at least as much to do with climate. In Australia, we've tended to focus on climate more than soil; in France the reverse. Yes, rocks and soil are very significant, but a proper, detailed and comprehensive discussion of terroir can't ignore climatic conditions.
Ideally, the two would be treated together, but then, that would necessitate a much bigger book than this one.
*"Land and Wine: The French Terroir" by Charles Frankel (hardback, 250 pages, University of Chicago Press 2014)