Marques de Murrieta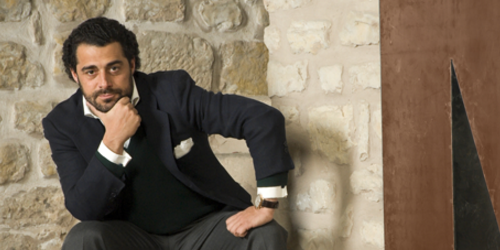 While there's a lot of talk in Rioja today about single-vineyard wines and the desire to capture terroir, the region's oldest winery and one of its biggest is a single-estate wine.
Marques de Murrieta (tastings) has 300 hectares of vines surrounding the winery just outside Logrono, and it neither buys nor sells any grapes. But it is not likely to be one of the darlings of the terroirists because its wines are made very traditionally. Its top wine, Castillo Ygay Gran Reserva Especial (tastings), spends four years in oak and four to five in bottle, and is released at eight to nine years. The 2007 vintage is the latest release.
Marques de Murrieta is also very quality-orientated: its lowest grade of wine is Reserva and there is no Crianza – let alone Joven, the young, fruity, usually unwooded, entry-level wine of Rioja.
Murrieta is a wholly amazing place to visit. The owner, dashing 45-year-old Vicente Dalmau (pictured), has spent about 14 million Euros rebuilding the castillo (castle or chateau) and renovating other buildings on the property. The castillo's foundations were found to be insecure, so it was demolished, stone by stone, and rebuilt. The work has been beautifully done and the result is spectacular.
There are many buildings because, as with all the larger traditional Rioja bodegas, they have an enormous quantity of wine aging in both barrels and bottles to house. Traditional producers often remind us that Rioja is one of the world's few red wines which is matured by the producer before you buy it. This contrasts with a global trend of wineries hurrying to get their latest vintage on sale as soon as possible. The current vintage of Marques de Murrieta Reserva is 2010, with 2011 due for release in Spain in about one month.
The work, however, is not finished: on a hill to one side of the Castillo the earthworks resemble on open-cut mining operation. A massive mound of rich brown earth is crawling with bulldozers. They are building a new winery. It should all be completed within two more years. It is a massive investment in the future and a huge vote of confidence in the future of Rioja wine.