Allergies and Intolerances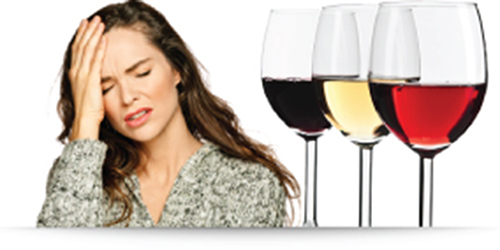 A topic of high interest in my wine classes is the adverse reactions that some people get from wine. Sulfur dioxide gets the blame from sufferers. While it is true that Sulfur dioxide can trigger off an adverse reaction – technically an intolerance, according to The Oxford Companion to Wine (OCW), other factors may deserve the blame.
The OCW defines an allergy as a reaction with an immunological basis. Examples of common allergens that can be found in wine are dead yeast cells from fermentation, and traces of proteins from fining agents.
Everything else, it seems, is an intolerance. These include histamine and tyramine produced during malolactic fermentation, which can trigger headaches and red wine intolerance. I recall reading about a malady called 'Red wine drinker's headache syndrome' which can cause severe migraines in susceptible red wine drinkers. The cure, according to the report, was to take half an aspirin one hour before drinking red wine. I tested it on five sufferers. It worked on four of them. It might be worth trying.
Some people, particularly members of certain ethnic groups, can experience flushing after drinking alcohol of any sort due to the lack of an enzyme which metabolises alcohol. There is no instant cure, although if sufferers persevere despite the unpleasant symptoms, they apparently adapt and the symptoms gradually abate.