Crawford River celebrate 40th Anniversary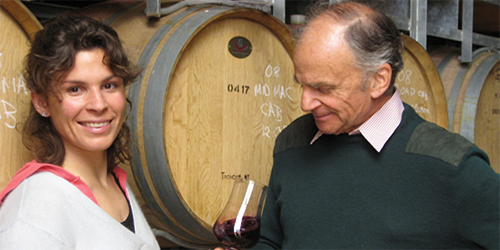 (Belinda & John Thomson)
If your ambition is to make an impact in the world of wine production, it pays to start early. At least, if you're starting from the bare ground. And especially if the site is relatively untested.
John and Catherine Thomson were young when they planted their first vines on the Thomson family farm Crawford River (tastings) in 1975, just three years after they married. The family farm had traditionally raised sheep and cattle, with cereal cropping and poultry, orchards and vegetable gardens on the side. This year, they celebrated their 40th anniversary, and they're still young and spritely enough to enjoy it. As well, their two daughters are involved, Belinda as winemaker, Fiona as marketing manager, so things panned out rather well. The wines, led by the riesling, are outstanding.
As John reminisced recently, Karl Seppelt had planted the nearby Seppelt (tastings) Drumborg Vineyard a few years earlier, so "we knew there was some sensible thought going into the area".
But apart from Seppelt and Crawford River, there was little viticultural action in the area for many years. The region is named Henty, and if it wasn't for the large Seppelt vineyard I doubt it would have enough hectares to be gazetted a region.
The Thomson family held a celebration lunch at Guillaume restaurant in Sydney and despite the lavish location, the invited guests felt as though they were in the Thomsons' own home, such was the friendly and familiar atmosphere. There was the kind of banter a family might engage in around their own dinner table, and all the while John was paying inordinate attention to his mobile phone. He was keeping tabs on a livestock sale down in Victoria at which he was selling some cattle, and he didn't seem happy about the price.
In his welcome speech, Thomson had already alluded to the financial realities of farming. "My father was a price taker," he said. "He sold wool and beef, and he was always at the mercy of the markets. I got into grapes to become a price maker, rather than a price taker."
One of his early mentors was the late, great Trevor Mast, then winemaker at Best's of Great Western (tastings). Mast was a riesling-lover and had been trained at Germany's Geisenheim wine school.
The Crawford River riesling (tastings) has been outstanding from the very start. The 1988 riesling (tasting) is still in great nick at 27 years old: indeed, at the 40th anniversary lunch it was one of the greatest wines on the table. Other stars were the 1994 (tasting) and current release 2014 (tasting), but all 10 rieslings tasted were wonderful.
Cabernet sauvignon is also planted and is more marginal, but when the grapes ripen properly the wine can be superb. The 2008 (tasting) and 2012 (tasting), as tasted at the lunch, are fine examples.
We finished with two sweet whites: the very restrained and refined 2007 Nektar Riesling (tasting) and the exotic, uncannily Sauternes-like 2010 Nektar (tasting) made from sauvignon blanc and semillon.
We also tasted the four reserve rieslings the Thomsons made from 2003 to 2006 inclusive (tastings). All great wines, but – a very candid John Thomson admitted – they were a bit of an ego-trip, and they stopped making a reserve because they were too worried about taking away from the main wine. Now there's honesty for you.
Great family; great wine; great 40 years.