A Christmas gift for wine lovers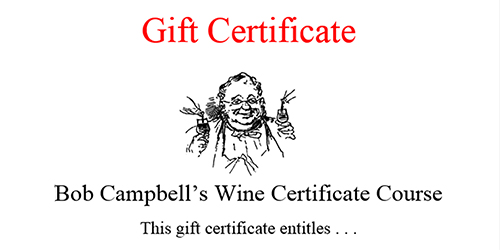 Help someone you love get more pleasure from wine. I offer Gift Certificates for my one-day or five-week courses. Both are offered in Auckland while the one-day course is also held in Wellington, Blenheim and Christchurch.
Cost: $249 (incl. GST)
To Book: email Tracey at tracey@bobcampbell.co.nz or phone me at 09-445 1745
Find out more: http://booking.bobcampbell.co.nz/courses.php
When you purchase a gift certificate details are logged into our gift certificate register and the recipient simply phones or emails us to book onto a course that suits their schedule. I only set a new course date when the existing course fills, but run courses regularly throughout the year.
Left it until the last minute … phone me and I'll email a certificate to you immediately.